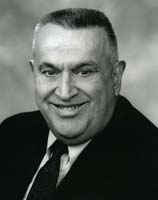 Stanley A. Changnon
Born:
1928 in Donovan, Illinois
Pen Name:
Stanley Alcide Changnon
Connection to Illinois
: Stanley A. Changnon was born in Donovan, Illinois and taught at the University of Illinois in Urbana-Champaign.
Biography
: Changnon has authored several scientific books, and combined his skills as a scientist and his passion for the railroad. America's Rural Hub, published by Mayhaven, was the first of his three railroad books. He graduated from the University of Illinois and stayed on as Chief of the Illinois State Water Survey. He also taught basketball. Changnon is retired from the University of Illinois, and now travels the world as a meteorologist. He was on the research team for Al Gore's work on the environment, which won the Nobel Prize. He and his wife reside in central Illinois.
---
Awards
:
Primary Audience(s):
Children
Email:
schangno@UIUC.edu
Stanley A. Changnon on WorldCat :
http://www.worldcat.org/search?q=stanley+a.+changnon
---
Selected Titles
America's rural hub :
ISBN: 1878044044 OCLC: 24884567 Mayhaven Pub., Mahomet, IL, U.S.A. : ©1991.
El Niño, 1997-1998 :
ISBN: 0195135512 OCLC: 560324722 Oxford University Press, Oxford ; 2000. This book covers the time span from the first indications of El Nino (May 1997) until its reversal (June 1998). The focus is largely on the United States, where El Nino produced widespread changes in how the public perceives weather and in the accuracy of forecasts. Among the key issues it examines are how the news media interpreted and dramatized El Nino and the reaction both of the public and decision-makers (the latter based on interviews with agribusiness, utilities, water management agencies, etc.); the scientific issues emerging from the event; and the social and economic consequences of the event. Finally, it suggests what can and should be done when El Nino occurs in the future.
The Great flood of 1993 :
ISBN: 0813326192 OCLC: 33971701 Westview Press, Boulder, CO : ©1996. "The first comprehensive evaluation of the catastrophic flood of 1993 in the United States, this book examines the way in which floods are forecast and monitored, the effectiveness of existing recovery processes, and how the nation manages its floodplains. Through detailed case studies, this timely volume diagnoses the social and economic impacts of the disaster, assessing how resource managers, flood forecasters, public institutions, the private sector, and millions of volunteers responded to it. The book concludes with recommendations for the future, in hopes of better preparing the country for the next flood or other comparable disaster."--Jacket.
The triangle :
ISBN: 0963181106 OCLC: 26932008 S.A. Changnon, Mahomet, IL : ©1991.
Thunderstorms Across the Nation.
ISBN: 0756726301 OCLC: 785278951 Diane Pub Co., 2002.