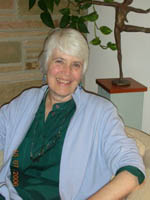 Betsy Hearne
Born:
1942 in Wilsonville, Alabama
Pen Name:
None
Connection to Illinois
: Hearne studied children's literature and folklore, got a Ph. D. at the University of Chicago's Graduate Library School, and became a professor. She lives in Urbana, Illinois.
Biography
: Betsy Hearne is former Director of The Center for Children's Books and a professor emerita in the Graduate School of Library and Information Science at the University of Illinois at Urbana-Champaign, where she taught children's literature and storytelling for many years.She is the author of numerous articles and books, including ''Choosing Books for Children: A Commonsense Guide'', the folktale anthology ''Beauties and Beasts'', fiction for both children and young adults, and picture books—one of which, ''Seven Brave Women'', won the Jane Addams Children's Book Award. The former children's book editor of Booklist and of The Bulletin of the Center for Children's Books, she has reviewed books for almost forty years and contributes regularly to ''The Horn Book Magazine''.Hearne has been president of the United States chapter of the International Board on Books for Young People, and chair of the American Library Association's Caldecott Award Committee. She received a National Teaching Award from the Association of Library and Information Science Education; the 2009 Anne Devereaux Jordan Award from the Children's Literature Association; and from the University of Illinois, a University Scholar Award and a Graduate College Outstanding Mentor Award.
---
Awards
:
Jane Addams Children's Book Award and Boston Globe-Horn Book Honor Book for ''Seven Brave Women'' Parents' Choice Silver Honor Award Best Children's Book Award Anne Izard Award Parents Choice Award Carl Sandburg Award Anne Devereaux Jordan Award for O
Primary Literary Genre(s):
Fiction - Children Poetry
Primary Audience(s):
Children; Young adult readers
Email:
ehearne@illinois.edu
Website:
http://people.lis.illinois.edu/~ehearne/
Betsy Hearne on WorldCat :
http://www.worldcat.org/search?q=betsy+hearne
---
Selected Titles
Choosing books for children :
ISBN: 0252025164 OCLC: 40805417 University of Illinois Press, Urbana : ©1999. Offers advice on how to choose books for children, and features essays about various genres of children's books, each followed by an annotated bibliography of recommended titles.
Seven Brave Women
ISBN: 9780756966690 OCLC: 148744825 Perfection Learning Prebound, [Place of publication not identified] : 2006. A young girl recounts the brave exploits of her female ancestors, including her great-great-great grandmother who came to America in a wooden sailboat.
The canine connection :
ISBN: 9781439131947 OCLC: 911622807 Twelve short stories that reflect the varied ways that dogs and humans relate.
Wishes, kisses, and pigs
ISBN: 0689863470 OCLC: 53053182 Aladdin Paperbacks, New York : 2003. After eleven-year-old Louise makes a wish on the first evening star and her brother turns into a pig, she uses wishes, kisses, and spells to try to put things right again.