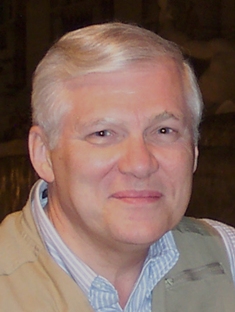 John Gile
Born:
1944 in Cuba City, Wisconsin
Pen Name:
None
Connection to Illinois
: Gile graduated from Northern Illinois University and currently resides in Rockford, Illinois.
Biography
: John Gile is an award-winning author, journalist, editor, and publisher with more than three decades of education and experience in the world of print, electronic, and interpersonal communication.
---
Awards
:
Primary Audience(s):
Adult readers; Children; Children; Young adult readers
Email:
jgcmail@sbcglobal.net
Website:
http://www.johngile.com
John Gile on WorldCat :
http://www.worldcat.org/search?q=john+gile
---
Selected Titles
Di yi zuo sen lin de ai
ISBN: 9578792166 OCLC: 856937233 Da shu wen hua, Tai bei shi : 1994[min 83]
El primer bosque /
ISBN: 0910941157 OCLC: 82145431 Worzalla, Stevens Point, Wis. : 2006. A modern fable to remind us that greed and selfishness are harmful and that peace and harmony flow from an attitude of grateful appreciation for the gifts we receive and a respect for the need and right of others to share in those gifts.
Keeping first things first /
ISBN: 0910941025 OCLC: 22934126 Worzalla Pub. Co., Stevens Point, Wis. : ©1990.
Warriors Forever
ISBN: 9780910941372 OCLC: 999822584 John Gile Communications/JGC United Publishing, Rockford, IL : 2017. Warriors Forever is storytelling at its best: a timless and timely story from an era when high school basketball was the talk of the town and the social event of the week. It is 'the story of what is best in us and what is worst in us in Everycity, USA': how we are divided, and how a once-in-a-lifetime phenomenon can bring us together, at least for a moment, and erase our diffrences.--Back cover.
What is that thing? whose stuff is this? /
ISBN: 0910941270 OCLC: 45769670 JGC/United Pub., Rockford, IL : ©2000.