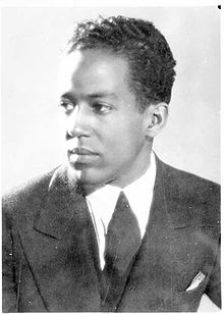 James Langston Hughes
Born:
February 1, 1902, in Joplin, Missouri
Died:
May 22, 1967, in New York, New York
Pen Name:
Langston Hughes
Connection to Illinois
: Hughes moved to Lincoln, Illinois when he was 13 years old. While he lived in Lincoln for only one year, it is here that he wrote his first verse and was named class poet of his eighth grade class. In the 1942, he wrote a highly successful column in the ''Chicago Defender'' for which he created a comic character named Jesse B. Semple, a black everyman that Hughes used to further explore urban, working-class black themes, and to address racial issues. This column ran fot 20 years. In 1949, he became the poet in residence for the Laboratory School at the University of Chicago.
Biography
: Hughes was a poet, novelist, short story writer, playwright, song lyricist, radio writer, translator, lecturer, author of childrens books, columnist and social activist. He was a prolific writer who is well known for introducing jazz poetry style.
---
Awards
:
-- Harmon Gold Medal for Literature
-- Chicago Literary Hall of Fame, 2012
Primary Literary Genre(s):
Poetry
Primary Audience(s):
Adult readers
Facebook:
http://www.facebook.com/search.php?q=Kevin+Huizenga+&init=quick&tas=0.10126219950294013&search_first_focus=1300462668694#!/pages/James-Langston-Hughes/115431871803674=james+langston+hughes
Website:
https://poets.org/poet/langston-hughes
Website:
https://www.poetryfoundation.org/poets/langston-hughes
Website:
https://www.biography.com/news/langston-hughes-poems
Website:
https://www.britannica.com/biography/Langston-Hughes
Website:
http://www.americaslibrary.gov/aa/hughes/aa_hughes_subj.html
Website:
https://poetryarchive.org/poet/langston-hughes/
Wikipedia:
https://en.wikipedia.org/wiki/Langston_Hughes
---
Selected Titles
Carol of the brown king :
ISBN: 0689818777 OCLC: 37465450 Atheneum Books for Young Readers, New York : 1998. Five poems by Langston Hughes and one anonymous one translated from the Spanish present the story of the first Christmas from different perspectives.
Fight for freedom and other writings on civil rights /
ISBN: 0826213715 OCLC: 56723440 University of Missouri Press, Columbia ; ©2001. Nearing the end of a distinguished literary career that spanned nearly fifty years, Langston Hughes took on the daunting task of writing the official history of the national Association for the Advancement of Colored People (NAACP). Beginning with the social, political, and economic contexts that led to the founding of the NAACP in 1909 and ending with a summary of its targeted goals for 1963, Hughes attempted to write a history that would be comprehensive in scope and singular in its purpose of highlighting the ways in which the Association had a direct and positive influence on racial justice in the United States. Focusing on the individuals who had the greatest impact on the NAACP and the issues with which the organization was most concerned in its first fifty years of existence, Hughes produced the widely acclaimed Fight for Freedom, striking an exceptional balance between biography and cultural history. Long before the publication of Fight for Freedom, Hughes had begun writing nonfictional prose about these same issues as a regular columnist and essayist for the nation's most influential African American publications, including the Chicago Defender and Crisis. A selection of these popular columns and other essays - which reveal the extent to which Hughes's unique, varied, and sometimes Blues- tinged narrative voice shifted in tone over the course of his extensive career - is included in this volume. Hughes intersperses historical facts with compelling anecdotes that often frame subtly ironic commentaries on various themes. The result is history that provides a lens through which to view Hughes's attitudes in the early 1960s toward the ways the NAACP addressed the vital social, cultural, political, and economic issues central to its agenda. Fight for Freedom and Other Writings on Civil Rights makes a unique contribution to the oeuvre of an African American writer whose full significance to American literature, history, and culture will continue to be defined well into the twenty-first century.
I wonder as I wander :
ISBN: 0809015501 OCLC: 27013066 Hill and Wang, New York : 1993. From the Publisher: In I Wonder as I Wander, Langston Hughes vividly recalls the most dramatic and intimate moments of his life in the turbulent 1930s. His wanderlust leads him to Cuba, Haiti, Russia, Soviet Central Asia, Japan, Spain (during its Civil War), through dictatorships, wars, revolutions. He meets and brings to life the famous and the humble, from Arthur Koestler to Emma, the Black Mammy of Moscow. It is the continuously amusing, wise revelation of an American writer journeying around the often strange and always exciting world he loves.
Let America be America again and other poems /
ISBN: 1400095190 OCLC: 56191543 Vintage Books, New York : 2004. Hughes's 1936 poem is accompanied by a selection of the American poet's work offering an inclusive and democratic vision for America.
Mule bone :
ISBN: 0060968850 OCLC: 22593511 HarperPerennial, New York, NY : [1991], ©1931. The only literary collaboration between Langston Hughes and Zora Neale Hurston, this play marked a turning point in African-American theater. This volume tells the story of the play's conception and inspiration and gives complete details of the irreparable rift in Hurston and Hughes's friendship that came about because of it. Also included is Hurston's short story, "Bone of Contention."
Poems /
ISBN: 0375405518 OCLC: 40543200 Knopf, New York : 1999. In the delightfully small Pocket Poets format, a selection of the poems of Langston Hughes -- one of America's greatest popular poets since Walt Whitman. From the publication of his first book in 1926, Hughes was hailed as the poet laureate of black America, the first to commemorate the experience of African-Americans in a voice that no reader, black or white, could fail to hear. Lyrical and pungent, passionate and polemical, this volume is a treasure -- an essential collection of the work of a poet whose words have entered our common language.
Selected poems of Langston Hughes.
ISBN: 067972818X OCLC: 21561989 Vintage Books, New York : 1990. Overview: With the publication of his first book of poems, The Weary Blues, in 1926, Langston Hughes electrified readers and launched a renaissance in black writing in America. The poems Hughes wrote celebrated the experience of invisible men and women: of slaves who "rushed the boots of Washington"; of musicians on Lenox Avenue; of the poor and the lovesick; of losers in "the raffle of night." They conveyed that experience in a voice that blended the spoken with the sung, that turned poetic lines into the phrases of jazz and blues, and that ripped through the curtain separating high from popular culture. They spanned the range from the lyric to the polemic, ringing out "wonder and pain and terror-- and the marrow of the bone of life." The poems in this collection were chosen by Hughes himself shortly before his death in 1967 and represent work from his entire career, including "The Negro Speaks of Rivers," "The Weary Blues," "Still Here," "Song for a Dark Girl," "Montage of a Dream Deferred," and "Refugee in America." It gives us a poet of extraordinary range, directness, and stylistic virtuosity.
Short stories /
ISBN: 0613025040 OCLC: 189857207 Hill and Wang, New York : 1997, ©1996. Offers a collection of stories written between 1919 and 1963 that follow Hughes' literary development and the growth of his personal and political concerns.
Simple's Uncle Sam /
ISBN: 0809086816 OCLC: 42861758 Hill and Wang, New York : 2000. Twentieth-century African-American writer Langston Hughes' final collection of stories based on his "Chicago Defender" newspaper character Jesse B. Semple, a simple man who commented on a wide range of everyday topics within the context of race and politics.
That is my dream! :
ISBN: 9780399550171 OCLC: 970022360 "Dream Variation," one of Langston Hughes's most celebrated poems, about the dream of a world free of discrimination and racial prejudice, is now a picture book stunningly illustrated by Daniel Miyares ... An African-American boy faces the harsh reality of segregation and racial prejudice, but he dreams of a different life--one full of freedom, hope, and wild possibility, where he can fling his arms wide in the face of the sun"--
The best of Simple /
ISBN: 0404199364 OCLC: 123115843 AMS Press, New York : 2006. A selection of the author's favorite stories chosen from three of his books: "Simple Speaks his Mind," "Simple Takes a Wife," and "Simple Stakes a Claim."
The big sea :
ISBN: 0809015498 OCLC: 27013059 This book chronicles the life of Hughes, who came of age early in the 1920s in the two great playgrounds of the decade: Harlem and Paris.
The block :
ISBN: 067086501X OCLC: 32311520 Viking, New York : 1995. A collection of thirteen of Langston Hughes poems on African American themes.
The collected poems of Langston Hughes /
ISBN: 0679764089 OCLC: 30110330 Knopf : New York : 1994. Here, for the first time, is a complete collection of Langston Hughes's poetry - 860 poems that sound the heartbeat of black life in America during five turbulent decades, from the 1920s through the 1960s. The editors, Arnold Rampersad and David Roessel, have aimed to recover all of the poems that Hughes published in his lifetime - in newspapers, magazines, and literary journals, and in his books of verse. They present the poems in the general order in which Hughes wrote them, and also provide illuminating notes and a chronology of the poet's life. Arnold Rampersad, the author of the esteemed two-volume biography of Langston Hughes, has written a perceptive and moving introduction that throws light on Langston Hughes's distinctive voice as a poet and the world in which he lived.
The collected works of Langston Hughes
ISBN: 082621410X OCLC: 45500326 The eighteen volumes are published with the goal that Hughes pursued throughout his lifetime: making his books available to the people. Each volume will include a biographical and literary chronology by Arnold Rampersad, as well as an introduction by a Hughes scholar lume introductions will provide contextual and historical information on the particular work.
The dream keeper and other poems /
ISBN: 0679883479 OCLC: 25711946 Knopf, New York : ©1994. A collection of sixty-six poems, selected by the author for young readers, including lyrical poems, songs, and blues, many exploring the black experience.
The first book of jazz /
ISBN: 0880015527 OCLC: 37686693 Ecco Press, Hopewell, N.J. : 1997, ©1982. An introduction to jazz which focuses on its historical development.
The novels :
ISBN: 0826213421 OCLC: 56731885 University of Missouri Press, Columbia : ©2001. Although best known as a poet, Langston Hughes was also the author of two novels that richly evoke the black experience in America. First published in 1930 and 1958, respectively, Not without Laughter and Tambourines to Glory reflect the early and late vision of one of the twentieth century's most distinguished men of letters. In his introduction to this combined edition of both novels, Dolan Hubbard addresses Hughes's growing influence on American letters and reveals how a black aesthetic tradition shaped his art and his imagination. Hughes shows us how the discourse of black America informs and alters our understanding of cultural history and of aesthetic values. In Not without Laughter, he movingly tells the story of a black boy growing into manhood in a small Kansas town during the early twentieth century and his experiences with race, family, school, work, music, and religion. His grandmother, a humble religious woman, struggles to keep her family (living with her are two of her three daughters, one son-in-law, and her grandson) together, on the meager income she earns by taking in washing. Set in Harlem, the center of Hughes's spiritual universe, Tambourines to Glory is an urban folk melodrama based on the black fusion of Christian hymns and spirituals with the blues. This comic novel captures the spirit of newly transplanted southern blacks who bend the alien rhythms of the city to the gospel sound. This volume of The Collected Works of Langston Hughes is a testament to a man whose life and writings have had a profound influence on world literature and is proof that Hughes's immense talent embraced not only poetry, but fiction as well.
The return of Simple /
ISBN: 080901582X OCLC: 33386956 Hill and Wang, New York : 1995, ©1994.
The sweet and sour animal book /
ISBN: 0195120302 OCLC: 30036439 Twenty-six short poems introduce animals for each letter of the alphabet, from Ape to Zebra.
The ways of white folks /
ISBN: 0679728171 OCLC: 20392602 Vintage Books, New York : 1990. In these acrid and poignant stories, Hughes depicted black people colliding--sometimes humorously, more often tragically--with whites in the 1920s and '30s.
Vintage Hughes /
ISBN: 1400034027 OCLC: 52846131 Vintage Books, New York : 2004. Presents selected works from "The Collected Poems of Langston Hughes," and "The Ways of White Folks."