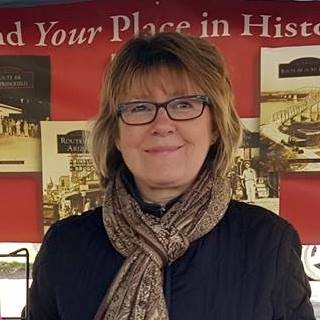 Cheryl Eichar Jett
Born:
in Jacksonville, Illinois
Pen Name:
None
Connection to Illinois
: Jett is a lifelong resident of Illinois. She was born in Jacksonville, Illinois to musical parents, and grew up in several Central Illinois cities.
Biography
: Cheryl Eichar Jett is an author, historian, and blogger. After teaching music for many years, she returned to Southern Illinois University as a nontraditional student for a master's degree in history. Her first book, 'Alton,' was published by Arcadia Publishing in 2009, followed by four more books on Illinois history. She also writes on Route 66 for several magazines. Cheryl was one of the founding board members in 2004 of the Illinois Chapter of the Trail of Tears Association and now serves on the City of Edwardsville's Historic Preservation Commission. An avid genealogist, she also enjoys travel, and music, and when not at the computer can be spotted out on Route 66 looking for a good story.
---
Awards
:
Primary Literary Genre(s):
History; Non-Fiction
Primary Audience(s):
Adult readers
Blog:
http://www.route66chick.com/
E-Mail:
cheryleicharjett@gmail.com
Facebook:
https://www.facebook.com/AuthorCherylEicharJett/
LinkedIn:
https://www.linkedin.com/in/cheryl-jett-04076747
Website:
https://madison-historical.siue.edu/encyclopedia/author/cheryl-eichar-jett/
Website:
https://www.goodreads.com/author/show/2916042.Cheryl_Eichar_Jett
on WorldCat:
http://www.worldcat.org/search?q=cheryl+eicher+jett
---
Selected Titles
Alton /
ISBN: 0738561142 OCLC: 276818506 Arcadia Pub., Charleston, SC : 2009.
Edwardsville /
ISBN: 0738560189 OCLC: 456738620 Arcadia Pub., Chicago, IL : ©2009.
Route 66 in Illinois /
ISBN: 1467111945 OCLC: 869775162 Between the great cities of Chicago and St. Louis, there are 300 miles of adventure, history, culinary delights, and quirky attractions. The carefully selected images included in this book reveal the life and times of another era along the Illinois stretch of Route 66.
Route 66 in Kansas (Images of America)
ISBN: 1531698522 OCLC: There are only 13.2 miles of Route 66 in Kansas, but the Sunflower State packs in as much history and adventure per mile as any of the eight Route 66 states. Route 66 in Kansas includes the wild tales from the days of "Red Hot Street" and the "First Cowtown in Texas." Blood was spilled here during the Civil War and when workers in the mines fought for their rights. Travelers will meet a beloved character from the motion picture Cars, cross a rare Rainbow Bridge, and see classic scenes along the Main Streets. Kansas was completely bypassed and was not even mentioned in the Bobby Troup song "(Get Your Kicks) on Route 66," but it would be a major mistake to pass it by today. It deserves to be experienced slowly--with the top down and the radio up.
Route 66 in Madison County /
ISBN: 0738583855 OCLC: 639158750
Route 66 in Springfield /
ISBN: 0738583766 OCLC: 639158745