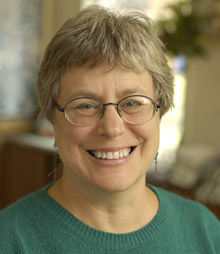 Judith Bloom Fradin
Born:
1945 in Chicago, Illinois
Pen Name:
Judith Fradin
Connection to Illinois
: Fradin is a native Chicagoan. She currently lives in Evanston, Illinois. She graduated from Northwestern University and earned her master's degree at Northeastern Illinois University.
Biography
: Judith Fradin has co-authored more than 65 children's and young adult books with her late husband, renowned writer Dennis Fradin. Starting in the 1990s, Judy began helping Dennis research and write a 52-book series about the states, ''From Sea to Shining Sea'', for Children's Press. When those books were completed, they collaborated on ''Who Was Sacagawea?'' Their next joint venture, the young adult biography ''Ida B. Wells: Mother of the Civil Rights Movement'' became a Society for Midland Authors and a SCBWI award winner. More award-winning Fradin and Fradin biographies followed: ''The Power of One: Daisy Bates and the Little Rock Nine'', ''Five Thousand Miles to Freedom'' and ''Jane Addams: Champion of Democracy.'' They also wrote a series called ''WITNESS TO DISASTER'' for National Geographic Children's Books which include: Volcanoes, Hurricanes, Tsunamis, Earthquakes, Droughts and Tornadoes.
---
Awards
:
"""Ida B. Wells"""
-- Flora Stieglitz Straus Award, Bank Street College of Education, 2001
-- Children's Books of Distinction Award, Riverbank Review, 2001
-- Smithsonian Book of the Year, 2001 """The Power of One"""
-- Golden Kite Honor
Primary Literary Genre(s):
Non-Fiction
Primary Audience(s):
Children; Young adult readers
Email:
yudiff@aol.com
Website:
http://www.scbwi-illinois.org/Fradin.html
Website:
http://www.ngchildrensbooks.org/c/aboutauthor.web?nocache@2+s@EaRHMAKD.ktqA+record@C1040
Judith Bloom Fradin on WorldCat :
http://www.worldcat.org/search?q=judith+bloom+fradin
---
Selected Titles
5000 miles to freedom :
ISBN: 0792278852 OCLC: 61118174 National Geographic, Washington, D.C. : ©2006. Ellen and William Craft were two of the few slaves to ever escape from the Deep South. Their first escape took them to Philadelphia, then on to Boston pursued by slave hunters, and finally 5000 miles across the ocean to England, where they were able to settle peacefully.
Earthquakes :
ISBN: 9781426309793 OCLC: 760089531 National Geographic, Washington, D.C. : ©2011. Describes the earthquake in Alaska in 1964 as told by eyewitness accounts of this disaster.
Hurricanes
ISBN: 9781426201110 OCLC: 86115546 National Geographic, Washington, D.C. : 2007. Step into the eye of the storm. Follow the action, from the first news reports of a hurricane called Katrina gathering out at sea, to eyewitness accounts of those who survive the epic devastation she finally wreaks along the Gulf Coast. Then look back at the history of these catastrophic storms and examine the science of hurricanes. How do they form? Why do they rage through the same regions? Which were the deadliest hurricanes in history? And how can scientists predict their landfall? All the answers are here, in an exciting narrative brought to life with stunning National Geographic photography of storm-ravaged landscapes and cities. The book's informative back matter contains all the facts that report-writers need, and includes a complete list of sources to find out more about this fearsome phenomenon. This season, Hurricanes will score a direct hit with children everywhere.
New Mexico
ISBN: 0516038311 OCLC: 27812536 Childrens Press, Chicago : ©1993. An introduction to the geography, history, people, cities, and famous sites of the large southwestern state known as The Land of Enchantment.
Tsunamis
ISBN: 9781426309809 OCLC: 759512534 National Geographic Society, Washington, D.C. : ©2008. The words and photographs of people who have witnessed tsunamis, along with the science, history, and protection efforts surrounding this watery disaster.
Zora! :
ISBN: 9780547534152 OCLC: 820859041 Clarion Books, Boston : ©2012. Zora Neale Hurston was confident, charismatic, and determined to be extraordinary. As a young woman, Hurston lived and wrote alongside such prominent authors asLangston Hughes and Alain Locke during the Harlem Renaissance. But unfortunately, despite writing the luminary work Their Eyes Were Watching God, she was always shortof money. Though she took odd jobs as a housemaid and as the personal assistant toan actress, Zora often found herself in abject poverty. Through it all, Zora kept writing. And though none of her books sold more than a thousand copies while she was alive, she was rediscovered a decade later by a new generation of readers, who knew theyhad found an important voice of American Literature.