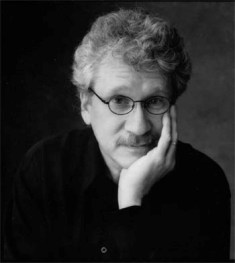 Reginald Gibbons
Born:
January 7, 1947 in Houston, Texas
Pen Name:
None
Connection to Illinois
: Reginald has lived in Evanston since 1981.
Biography
: Reginald Gibbons is the author of eleven poetry collections. His Creatures of a Day was a finalist for the National Book Award. His book Saints won publication in the National Poetry Series. Volumes of his selected poems in translation have been published in Spain, Italy, and France. His novel Sweetbitter won the Anisfield-Wolf Book Award, and he has also published a book of very short fiction, An Orchard in the Street. Gibbons is also the author of a book on poetic technique, How Poems Think. He has won fellowships from the Guggenheim Foundation, the National Endowment for the Arts, and the Center for Hellenic Studies, as well as the Folger Library's O. B. Hardison, Jr. prize and other honors and awards. His work has been included in Best American Poetry and Pushcart Prize anthologies. He teaches at Northwestern University, where he is a Frances Hooper Professor of Arts and Humanities.
---
Awards
:
"Body of Work"
Fuller Award, Lifetime Achievement, Chicago Literary Hall of Fame, 2021
"Creatures of a Day"
-- Finalist, National Book Award
"Saints"
-- Publication in the National Poetry Series
"Sweetbitter"
-- Anisfield-Wolf Book Award
Primary Literary Genre(s):
Fiction; Poetry
Primary Audience(s):
Adult readers
Website:
http://www.english.northwestern.edu/people/gibbons.html
Website:
https://www.reginaldgibbons.northwestern.edu/
Website:
https://www.poetryfoundation.org/poets/reginald-gibbons
Website:
https://poets.org/poet/reginald-gibbons
Wikipedia:
https://en.wikipedia.org/wiki/Reginald_Gibbons
---
Selected Titles
Creatures of a day :
ISBN: 9780807133187 OCLC: 165479194 Louisiana State University Press, Baton Rouge : ©2008. In Creatures of a Day, Reginald Gibbons presents intense encounters with everyday people amidst the historical and social contexts of everyday life. His poems are meditations on memory, obligation, love, death, celebration, and sorrow. Some of them show how the making of poetry itself seems inextricably enmeshed with personal encounter and with history. This new collection includes five odes woven from interactions with others, thirteen shorter poems, and Fern-Texts, a kind of biographical and autobiographical essay in syllabic verse on the parallel decades of the English 1790s and the American 1960s. Using quotations from the notebooks of Samuel Taylor Coleridge, Fern-Texts interweaves the dilemmas of love, ethics, and political engagement in Coleridge's life when he was in his twenties and in the poet's own life when, at the same age, he lived in California. Ranging from poems of witness to paradoxical speculations, from the personal intimacy of love and death to the broad scope of historical turmoil, Creatures of a Day is an unusual, powerful collection.
Fern-texts :
ISBN: 0977229831 OCLC: 68816112 Hollyridge Press, Venice, Calif. : ©2005.
Five pears or peaches :
ISBN: 0913089230 OCLC: 25325278 Broken Moon Press, Seattle : ©1991.
Homage to Longshot O'Leary :
ISBN: 0930100859 OCLC: 40298307 Holy Cow! Press, Duluth, Minn. : 1999.
How poems think /
ISBN: 022627795X OCLC: 894777754 Reginald Gibbons collects here a lifetime's worth of thoughts on composing and translating poetry. Not a manifesto or a general theory of the lyric, rather, the book explores how a poem thinks: that is, what results from the circumstances of a poet's native language, choice of words and topics, the mentality that the poet shares with other writers, and the range of poetic possibilities (and limitations) in a given language. Through exemplary case studies taken from his own experience in writing poetry, as well as in translating poetry from languages ranging from Sophocles's and Pindar's ancient Greek to their contemporary French, Italian, Portuguese, Russian, and Spanish successors, Gibbons traces the curious persistence of classical modes and images into the twenty-first century. He shows how the very language used in composing a poem, be it ancient Greek, Renaissance English, or contemporary Russian, both limits and enables how a poet thinks and what the poet can say. Even in describing difficult poetic concepts and operations, Gibbons writes in a clear, companionable style, entirely accessible not just to practicing poets, but also to general readers interested in poetry, and to writers of various stripes interested in the way our native language can often circumscribe what and how we think poetically, and affect how we compose poetry and prose.
In the warhouse :
ISBN: 0972255354 OCLC: 60576263 Fractal Edge Press : Chicago, Ill. : 2004.
It's time :
ISBN: 0807128147 OCLC: 50155566 Louisiana State University Press, Baton Rouge : 2002. Presents twenty-nine poems by American writer Reginald Gibbons, covering such themes as love, destructiveness, and the exploration of language.
Maybe it was so /
ISBN: 0226290557 OCLC: 23654141 University of Chicago Press, Chicago : 1991.
Renditions /
ISBN: 194558873X OCLC: 1191455954 "An energetic exploration of the expanse of language translated and otherwise transformed In Renditions Reginald Gibbons conducts an ensemble of poetic voices, using the works of a varied, international selection of writers as departure points for his translations and transformations. The collection poses the idea that all writing is, at least abstractly, an act of translation, whether said act "translates" observation into word or moves ideas from one language to another. Through these acts of transformation, Gibbons infuses the English language with stylistic aspects of other languages and poetic traditions. The resulting poems are imbued with a sense of homage that allows us to respectfully reimagine the borders of language and revel in the fellowship of idea sharing. In this tragicomedy of the human experience and investigation of humanity's effects, Gibbons identifies the "shared underthoughts that we can (all) sense:" desire, love, pain, and fervor"--
Saints :
ISBN: 0892551062 OCLC: 13214725 Persea Books, New York : ©1986.
Slow trains overhead :
ISBN: 9780226290614 OCLC: 642685756 University of Chicago Press, Chicago : 2010. Few people writing today could successfully combine an intimate knowledge of Chicago with a poet's eye, and capture what it's really like to live in this remarkable city. Embracing a striking variety of human experience--a chance encounter with a veteran on Belmont Avenue, the grimy majesty of the downtown El tracks, domestic violence in a North Side brownstone, the wide-eyed wonder of new arrivals at O'Hare, and much more--these new and selected poems and stories by Reginald Gibbons celebrate the heady mix of elation and despair that is city life. With Slow Trains Overhead, he has rendered a li.
Sparrow :
ISBN: 0807122327 OCLC: 36994818 Louisiana State University Press, Baton Rouge : 1997.
Sweetbitter :
ISBN: 0807128716 OCLC: 51151847 Louisiana State University Press, Baton Rouge : 2003. "Reginald Gibbons's first novel takes place in east Texas in 1910 during the time of white rule — not by law but by lynch mob. Amid the suffocating racism and fear, half-Choctaw, half-white Reuben Sweetbitter and Martha Clarke, a white woman, fall in love. . . . Reuben and Martha's love is strong, but, dishearteningly, racism is stronger. Timely in the subject of interracial love, this authentic, richly detailed novel plumbs sacrifice, fear, and the loss of one's identity, bringing the anguish of the two young lovers to life. Highly recommended."—Library Journal
The ruined motel :
ISBN: 039531660X OCLC: 7575522
William Goyen :
ISBN: 9780805795219 OCLC: 739734360 Twayne Publishers, Boston : 1991. Provides an in-depth critical introduction to the short stories of William Goyen. Includes a detailed analyses of every significant story, biographical information, a chronology of the artist's life and works, and a representative selection of critical responses.