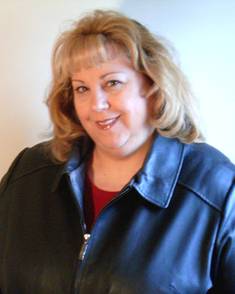 Denise Stybr
Born:
1956 in Kansas City, MO
Pen Name:
Denise Swanson
Connection to Illinois
: Styber lives and writes in Plainfield, Illinois.
Biography
: Denise Styber is a New York Times best-selling author. She has written the Scumble River Mystery Series and Devereaux's Dime Store Mystery Series. She also was an author in the anthology, ''Drop-Dead Blonde'', published in 2005.Styber was a school psychologist for twenty-two years. She drew upon that background to create school psychologist Skye Denison in the Scumble River Mystery Series who solves mysteries loosely based on incidents that occurred in her own life.
---
Awards
:
-- Mary Higgins Clark Award nominee for ''Murder of a Sweet Old Lady''
-- Daphne de Maurier
Primary Literary Genre(s):
Mystery
Primary Audience(s):
Adult readers
Email:
MsSleuth@AOL.com
Website:
http://www.DeniseSwanson.com
Denise Swanson on WorldCat :
http://www.worldcat.org/search?q=denise+swanson
---
Selected Titles
Between a book and a hard place /
ISBN: 0451477766 OCLC: 940576122 "Shadow Bend's library closed years ago because of budgetary problems, so when a wealthy benefactor offers to reopen it, everyone, including Dev, is thrilled. But Dev's excitement wanes when she realizes the mysterious donor is actually her runaway mother Yvette's latest husband, Jett Benedict. Dev suspects that Yvette and Jett's intentions aren't as noble as they appear, but before she can discover what they're really up to, Jett turns up dead--and all clues point to Yvette as the prime suspect. Even though Dev has no loyalty to Yvette, she's in a bind. Setting the record straight could prove her mother is a killer. But doing nothing might get her mother booked for a crime she didn't commit ..."--Page 4 of cover.
Dead between the lines /
ISBN: 0451418883 OCLC: 856738757 To keep her new business in the black, Dev opens up her shop to local clubs. But in the first meeting of the Stepping Out Book Club, the speaker storms out after members attack his poetry's sexism and scorn for small towns. Later that night, the poet's body is found outside Dev's store. Dev can't afford for the murder to close her down, so she does a little stepping out of her own to investigate, with help from her two sexy suitors, Dr. Noah Underwood and Deputy U.S. Marshal Jake Del Vecchio. But when the killer threatens Dev, they will have to use every trick in the book to solve the case before she becomes the final chapter in this murder mystery.
Dying for a cupcake /
ISBN: 0451418891 OCLC: 886486544 Obsidian, New York, NY : 2015. Returning home to Shadow Bend, Missouri where she hopes to launch her new line of cupcakes, Kizzy Cutler finds her plans derailed by the strange death of her assistant and several attempts on her own life, which makes her realize that someone is not so sweet on her return.
Little shop of homicide :
ISBN: 0451236181 OCLC: 727703236 Obsidian, New York : 2012. Dev Sinclair is the happy new owner of an old-fashioned shop in her small Missouri town. But if she doesn't focus on finding the killer of her ex's fiance, this five-and-dime owner may find herself serving 25-to-life.
Murder of a Barbie and Ken :
ISBN: 0451210727 OCLC: 53302180 Signet, New York : 2003. After joining Scumble River's social club, school psychologist Skye Denison and her boyfriend, Simon Reid, the town coroner, find themselves faced with the double homicide of Barbie and Ken Addison--a wealthy couple who seemed to have it all. Original.
Murder of a bookstore babe /
ISBN: 0451232801 OCLC: 617551108 Obsidian, New York : ©2011. Who could be driven to kill by books and sweets? While school psychologist Skye Dennison eagerly anticipates the grand opening of a new bookstore called Tales and Treats, many of Scumble River's most outspoken citizens want to shut down the owners before they even open- and one is angry enough to commit murder ...
Murder of a botoxed blonde /
ISBN: 0451221419 OCLC: 86107725 New American Library, New York : 2007. A health spa is the last place school psychologist Skye Denison wants to spend Thanksgiving. But when her best friend Trixie Frayne convinces her to take a complimentary weekend at the new Scumble River Spa, Skye prepares to be slathered, wrapped, and roasted--until a murder ruins the good time. Original.
Murder of a chocolate-covered cherry /
ISBN: 0451223683 OCLC: 974416997 Penguin Group Inc. New York : 2008. When her mother forces her to enter Grandma Sal's Soup-to-Nuts Cooking Challenge despite her lack of culinary skills, Sky Denison must decipher a complex recipe for murder when a cocky contestant meets her fate in a chocolate fountain.
Murder of a creped Suzette :
ISBN: 0451235002 OCLC: 706018023 Signet, New York : 2011. "When megamillionaire and imitation cowboy Rex Taylor proposes building a country music theater in Scumble River, everyone's ready to do the boot-scootin' boogie except school psychologist Skye Denison. She's been asked by Suzette Neal, Rex's assistant and a rising country star, to investigate her mother's suspicious death twenty-seven years earlier. No sooner does Skye agree to help than she finds Suzette literally flattened--and very dead."--Page 4 of cover.
Murder of a pink elephant :
ISBN: 045121210X OCLC: 55734609 Signet, New York : 2004. Skye Denison, a school psychologist in Scumble River, Illinois, tries to clear her brother's name when he becomes the prime suspect in the murder of the lead singer of his band, the Pink Elephants, while elsewhere in town students are behaving very strangely, and a developer is trying to buy up farmland to build an amusement park.
Murder of a real bad boy :
ISBN: 0451218280 OCLC: 70665209 Signet, New York : 2006. When a hunky contractor, who has a reputation for conning the ladies, turns up dead, Skye Denison, deciding that even bad boys deserve justice, sets out to find the killer while dealing with an overly amorous police chief, a dodgy brother, and a haunted house. Original.
Murder of a sleeping beauty /
ISBN: 0451205480 OCLC: 49390898 Signet : New York, N.Y. : 2002. School psychologist Skye Denison of Scumble River, Illinois investigates when cheerleader and beauty queen Lorelei Ingles is murdered.
Murder of a small-town honey :
ISBN: 0451200551 OCLC: 44579873 Signet : New York, N.Y. : 2000. Fired from her job, jilted by her boyfriend, and rejected by her credit cards, school psychologist Skye Denison reluctantly returns to herhometown of Scumble River, where she finds plenty of mystery and romantic intrigue.
Murder of a snake in the grass :
ISBN: 045120834X OCLC: 51932170 Signet, New York, N.Y. : 2003. Skye Denison and the rest of Scumble River are celebrating the town's bicentennial. When the guest of honor--a descendant of the town's founder--is murdered, Skye wonders if her former fianc's arrival in town has something to do with the man's death. Original.
Murder of a sweet old lady :
ISBN: 0451202724 OCLC: 46635957 Signet : New York, N.Y. : ©2001. When her beloved grandmother is found dead, the victim of foul play, school psychologist Skye Denison sets out to uncover the truth about the murder and unwittingly stirs up a hotbed of family tensions, old secrets, violence, and death.
Murder of a wedding belle :
ISBN: 0451229614 OCLC: 426802017 Obsidian, New York, NY : ©2010. School psychologist Skye Denison reluctantly agrees to act as maid of honor in her California cousin's over-the-top platinum-style wedding- and is also expected to assist the control-freak wedding planner. But when Skye discovers the planner dead, just one week before the big event, Skye is suddenly working double-duty. While overseeing every nuptial detail, she's also helping the police find out who hated the bridal consultant enough to kill her. Can Skye get her cousin to the church on time-and save herself from a killer who may actually be on the guest list?
Murder of the cat's meow /
ISBN: 0451237811 OCLC: 775418019 New American Library, New York : ©2012. "When ex-Vegas showgirl and local business owner Bunny Reid starts an online dating service called Cupid's Cat's Meow, out-of-town visitors flock to her bowling alley for the speed-dating and cat show events she hosts to bring in extra cash. Bunny's scheme sounds harmless enough, but school psychologist Skye Denison knows all too well that an influx of strangers in Scumble River always spells trouble"--Publisher description.
Nickeled-and-dimed to death :
ISBN: 1624903576 OCLC: 865795756 Obsidian, New York : ©2013. Dev's five-and-dime may be doing well, but her love life is in turmoil. She's torn between Deputy U.S. Marshal Jake Del Vecchio, who is on an undercover assignment, and her ex-beau Noah Underwood, the local doctor from a high-society family. So she welcomes the distraction when Elise Whitmore offers her a great deal on antique chocolate molds that would be perfect for her Easter gift baskets. But do the molds actually belong to Elise's soon-to-be ex-husband? In buying them, has Dev committed a felony? When Elise is found shot to death, the mystery deepens-and Dev's good friend Boone, who discovered the body, is taken into custody. With the help of her best buds, Dev must clear Boone's name and find the real killer. Good thing that when it comes to amateur sleuths, they broke the mold with Dev Sinclair.