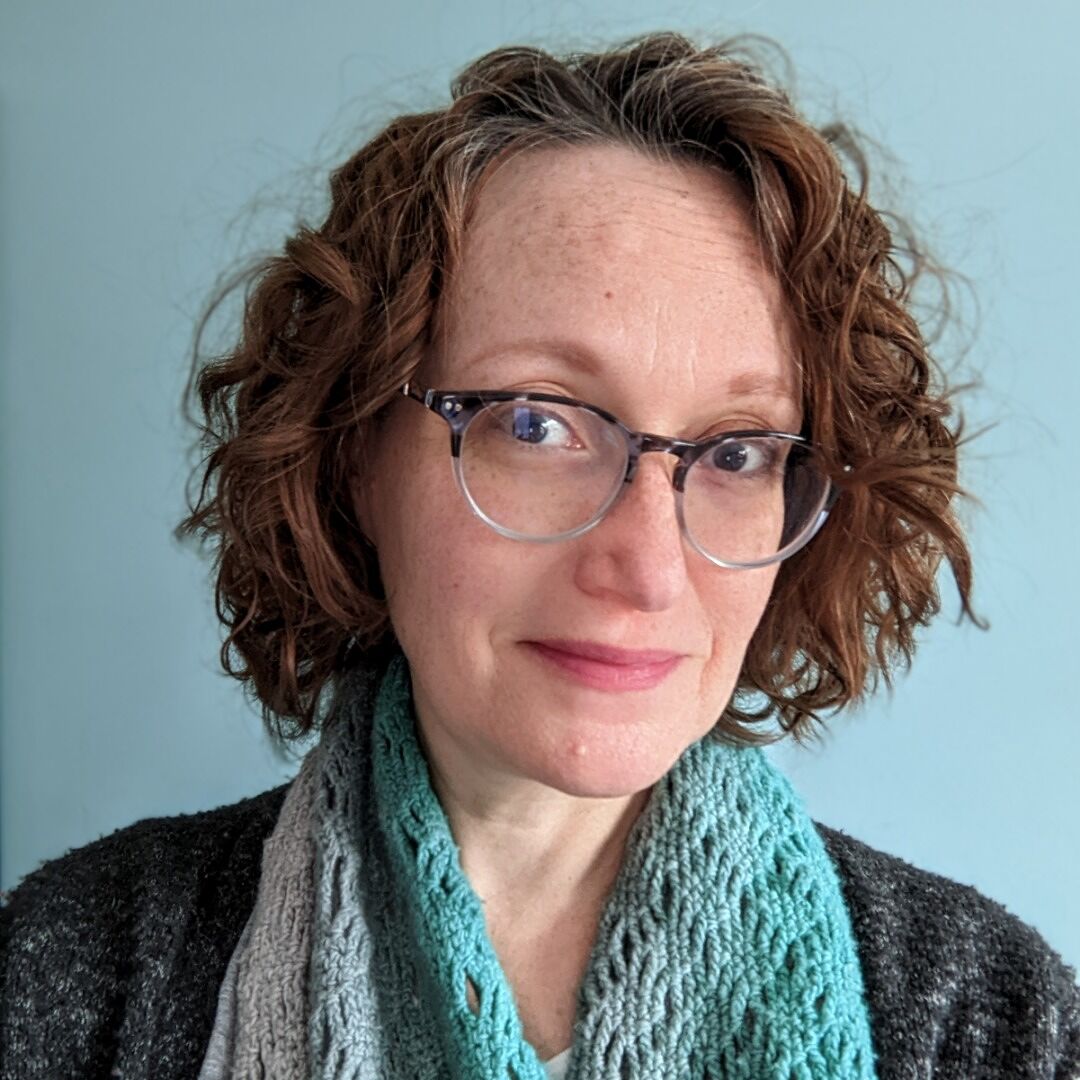 Mary Robinette Kowal
Born:
1969 in Raleigh, North Carolina
Pen Name:
None
Connection to Illinois
: Kowal lived in Chicago.
Biography
: Mary Robinette Kowal is the author of The Glamourist Histories series, Ghost Talkers, and the Lady Astronaut novels. She's a member of the award-winning podcast Writing Excuses and has received the Astounding Award for Best New Writer, four Hugo awards, the Nebula and Locus awards. Her stories appear in Asimov's, Uncanny, and several Year's Best anthologies. Mary Robinette, a professional puppeteer, also performs as a voice actor (SAG/AFTRA), recording fiction for authors including Seanan McGuire, Cory Doctorow, and Neal Stephenson. She now lives in Nashville.
---
Awards
:
John W. Campbell Award for Best New Writer, 2008
"Shades of Milk and Honey"

-- Finalist, Nebula Award for Best Novel, 2010
-- Finalist, Locus Award for Best First Novel, 2011
"Glamour in Glass"

-- Finalist, Nebula Award for Best Novel, 2012
-- Finalist, Locus Award for Best Fantasy Novel, 2013
"Ghost Talkers"

-- Finalist, 2017 Mythopoeic Award for Best Fantasy Novel
"The Calculating Stars"

-- Nebula Award for Best Novel, 2018
-- Locus Award for Best Novel, 2019
-- Hugo Award for Best Novel, 2019
-- Finalist, Campbell Memorial Award. 2019
-- Finalist, Hugo Award for Best Series, 2021
-- Locus Trade Paperback Bestseller List
-- Publishers Weekly Best Books of 2018―Science Fiction/Fantasy
-- RUSA Reading List for Science Fiction―American Library Association, 2019
-- Locus Recommended Reading List, 2018
-- Buzzfeed―17 Science-Fiction Novels By Women That Are Out Of This World
-- Locus Bestseller List
-- Chicago Review of Books―Top 10 Science Fiction Books, 2018
-- Goodreads―Most Popular Books Published in July 2018 (#66)
-- The Verge―12 fantastic science fiction and fantasy novels for July 2018
-- Unbound Worlds―Best SciFi and Fantasy Books of July 2018
-- Den of Geek―Best Science Fiction Books of June 2018
-- Publishers Weekly―Best SFF Books of 2018
-- Omnivoracious―15 Highly Anticipated SFF Reads for Summer 2018
-- Past Magazine―Best Novels of 2018
-- Bookriot―Best Science Fiction Books of 2018
-- The Library Thing―Top Five Books of 2018
"The Fated Stars"

-- Starred Review, Publishers Weekly
-- The Verge―Best SFF Books for August 2018
-- io9 ―Best SFF Books for August 2018
-- Unbound Worlds ―Best SFF Books for August 2018
-- Tor.com ―Best SFF Books for August 2018
-- Kirkus Online ―Best SFF Books for August 2018
-- Nerdmuch ―Best SFF Books for August 2018
"The Relentless Moon"

-- Finalist, Hugo Award for Best Novel, 2021
-- Finalist, Hugo Award for Best Series 2021
-- Locus Award Finalist, 2021
Primary Literary Genre(s):
Fiction
Primary Audience(s):
Adult readers
Facebook:
https://www.facebook.com/mary.r.kowal
Twitter:
https://twitter.com/maryrobinette
Website:
http://maryrobinettekowal.com
Wikipedia:
https://en.wikipedia.org/wiki/Mary_Robinette_Kowal
---
Selected Titles
Ghost talkers /
ISBN: 0765378256 OCLC: 955634776 "Ginger Stuyvesant, an American heiress living in London during World War I, is engaged to Captain Benjamin Harford, an intelligence officer. Ginger is a medium for the Spirit Corps, a special Spiritualist force ... Ginger and her fellow mediums contribute a great deal to the war efforts, so long as they pass the information through appropriate channels. While Ben is away at the front, Ginger discovers the presence of a traitor. Without the presence of her fiancé to validate her findings, the top brass thinks she's just imagining things"--Amazon.com.
Glamour in glass /
ISBN: 0765325616 OCLC: 795010283 Tor, New York : 2013. Newlyweds Jane and David Vincent travel to Belgium, and their ability to create invisibility via glamour makes them a target for emperor Napoleon's returning forces.
Of noble family /
ISBN: 0765378361 OCLC: 879582568 "The magical adventure that might result if Jane Austen walked on the grimmer side of the Regency"--
Shades of milk and honey /
ISBN: 0765325608 OCLC: 471820036 Tor, New York : 2010. In a Jane Austen-inspired alternate universe, two sisters, one beautiful and the other skilled in the glamour arts, test the limits of their gifts on an unscrupulous suitor.
The calculating stars /
ISBN: 0765378388 OCLC: 1033567216 On a cold spring night in 1952, a huge meteorite fell to earth and obliterated much of the east coast of the United States, including Washington D.C. The ensuing climate cataclysm will soon render the earth inhospitable for humanity, as the last such meteorite did for the dinosaurs. This looming threat calls for a radically accelerated effort to colonize space, and requires a much larger share of humanity to take part in the process. Elma York's experience as a WASP pilot and mathematician earns her a place in the International Aerospace Coalition's attempts to put man on the moon, as a calculator. But with so many skilled and experienced women pilots and scientists involved with the program, it doesn't take long before Elma begins to wonder why they can't go into space, too. Elma's drive to become the first Lady Astronaut is so strong that even the most dearly held conventions of society may not stand a chance against her.
The fated sky /
ISBN: 076539894X OCLC: 1048006486 "The Fated Sky looks forward to 1961, when mankind is well-established on the moon and looking forward to its next step: journeying to, and eventually colonizing, Mars. Of course the noted Lady Astronaut Elma York would like to go, but there's a lot riding on whoever the International Aerospace Coalition decides to send on this historic--but potentially very dangerous--mission? Could Elma really leave behind her husband and the chance to start a family to spend several years traveling to Mars? And with the Civil Rights movement taking hold all over Earth, will the astronaut pool ever be allowed to catch up, and will these brave men and women of all races be treated equitably when they get there?"--Amazon.
The Relentless Moon: A Lady Astronaut Novel
ISBN: 1250236959 OCLC: 1148466225 Tor 2020 "Astronauts Elma York, Nicole Wargin and Myrtle Lindholm continue to forge new paths for women astronauts as they work to achieve the International Aerospace Coalition's goal of getting as many people as possible off Earth before it becomes uninhabitable." --
Valour and vanity /
ISBN: 0765334186 OCLC: 879582516 "Mary Robinette Kowal's Valour and Vanity is a Regency version of a heist movie with a healthy dose of magic sprinkled in. After Melody's wedding, the Ellsworths and Vincents accompany the young couple on the their tour of the continent. Jane and Vincent plan to separate from the party and travel to Murano to study with glassblowers there, but their ship is set upon by Barbary corsairs while en route. It is their good fortune that they are not enslaved, but they lose everything to the pirates and arrive in Murano destitute.Fortunately, one of the gentlemen from the ship is a local banker and arranges for a line of credit and a place to live. Relieved, the Vincents begin the work for which they have come to Italy.All is proceeding apace until a solicitor arrives at their house and charges them with illegal trespass. Jane and Vincent produce letters from their banking friend, but they are all forgeries, and worse, he has used their forged letters to clean out their funds in England. Now, Jane and Vincent owe money to a number of people in town and are forbidden from travel. They manage to find some small work, but it is obvious to both of them that this path will not maintain them for long. Instead, Vincent hatches a reckless plan to get their money back. The ensuing adventure is a glorious envisioning of all the best parts of heist narratives, but in a Regency setting with magic"--
Without a summer
ISBN: 9780765334176 OCLC: 880765589 Regency-era glamourists Jane and Vincent Ellsworth, while visiting Jane's family, hope to bolster Melody's chances for a good marriage by accepting a commission from a prominent London family, a job that embroils them in an international crisis.
Word puppets /
ISBN: 1607014564 OCLC: 913057148 "Celebrated as the author of five acclaimed historical fantasy novels in the Glamourist series, Mary Robinette Kowal is also well known as an award-winning author of short science fiction and fantasy. Her stories encompass a wide range of themes, a covey of indelible characters, and settings that span from Earth's past to its near and far futures as well as even farther futures beyond. Alternative history, fairy tales, adventure, fables, science fiction (both hard and soft), fantasy (both epic and cozy)-nothing is beyond the reach of her unique talent. Word Puppets, the first comprehensive collection of Kowal's extraordinary fiction, includes her two Hugo-winning stories, a Hugo nominee, an original story set in the world of "The Lady Astronaut of Mars," and fourteen other show-stopping tales."--