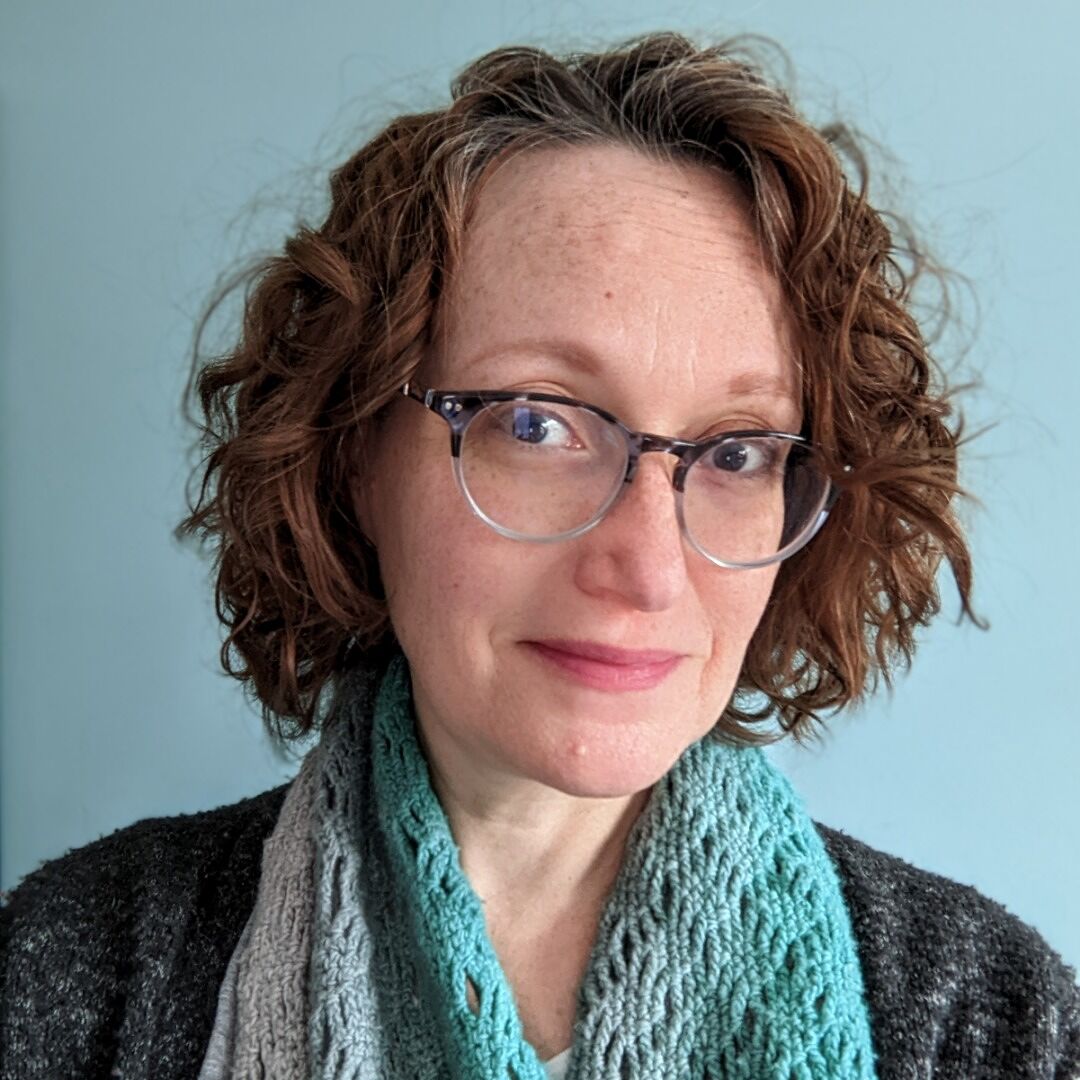 Mary Robinette Kowal
Born:
1969 in Raleigh, North Carolina
Pen Name:
None
Connection to Illinois
: Kowal lived in Chicago.
Biography
: Mary Robinette Kowal is the author of The Glamourist Histories series, Ghost Talkers, and the Lady Astronaut novels. She's a member of the award-winning podcast Writing Excuses and has received the Astounding Award for Best New Writer, four Hugo awards, the Nebula and Locus awards. Her stories appear in Asimov's, Uncanny, and several Year's Best anthologies. Mary Robinette, a professional puppeteer, also performs as a voice actor (SAG/AFTRA), recording fiction for authors including Seanan McGuire, Cory Doctorow, and Neal Stephenson. She now lives in Nashville.
---
Awards
:
Shades of Milk and Honey Finalist, Nebula Award for Best Novel, 2010; Finalist, Locus Award for Best First Novel, 2011
Glamour in Glass Finalist, Nebula Award for Best Novel, 2012; Finalist, Locus Award for Best Fantasy Novel, 2013
Ghost Talkers Finalist, 2017 Mythopoeic Award for Best Fantasy Novel
The Calculating Stars Nebula Award for Best Novel, 2018; Locus Award for Best Novel, 2019; Hugo Award for Best Novel, 2019; Finalist, Campbell Memorial Award. 2019; Finalist, Hugo Award for Best Series, 2021; Locus Trade Paperback Bestseller List; Publishers Weekly Best Books of 2018―Science Fiction/Fantasy; RUSA Reading List for Science Fiction―American Library Association, 2019; Locus Recommended Reading List, 2018; Buzzfeed―17 Science-Fiction Novels by Women That Are Out of This World; Locus Bestseller List; Chicago Review of Books―Top 10 Science Fiction Books, 2018; Goodreads―Most Popular Books Published in July 2018 (#66); The Verge―12 fantastic science fiction and fantasy novels for July 2018; Unbound Worlds―Best SciFi and Fantasy Books of July 2018; Den of Geek―Best Science Fiction Books of June 2018; Publishers Weekly―Best SFF Books of 2018; Omnivoracious―15 Highly Anticipated SFF Reads for Summer 2018; Past Magazine―Best Novels of 2018; Bookriot―Best Science Fiction Books of 2018; The Library Thing―Top Five Books of 2018
The Fated Stars Starred Review, Publishers Weekly; The Verge―Best SFF Books for August 2018; io9 ―Best SFF Books for August 2018; Unbound Worlds ―Best SFF Books for August 2018; Tor.com ―Best SFF Books for August 2018; Finalist, Hugo Award for Best Novel, 2021; Kirkus Online ―Best SFF Books for August 2018; Nerdmuch ―Best SFF Books for August 2018
The Relentless Moon Finalist, Hugo Award for Best Series 2021; Locus Award Finalist, 2021
Molly on the Moon Illinois READS Book Selection, Illinois Reading Council, 2023
Primary Literary Genre(s):
Fiction
Primary Audience(s):
Adult readers; Children
Facebook:
https://www.facebook.com/mary.r.kowal
Twitter:
https://twitter.com/maryrobinette
Web:
http://maryrobinettekowal.com
Wikipedia:
https://en.wikipedia.org/wiki/Mary_Robinette_Kowal
---
Selected Titles
Ghost Talkers
ISBN: 0765378256 OCLC: 955634776 A brilliant historical fantasy novel from acclaimed author Mary Robinette Kowal featuring the mysterious spirit corps and their heroic work in World War I. Ginger Stuyvesant, an American heiress living in London during World War I, is engaged to Captain Benjamin Harford, an intelligence officer. Ginger is a medium for the Spirit Corps, a special Spiritualist force. Each soldier heading for the front is conditioned to report to the mediums of the Spirit Corps when they die so the Corps can pass instant information about troop movements to military intelligence. Ginger and her fellow mediums contribute a great deal to the war efforts, so long as they pass the information through appropriate channels. While Ben is away at the front, Ginger discovers the presence of a traitor. Without the presence of her fiancé to validate her findings, the top brass thinks she's just imagining things. Even worse, it is clear that the Spirit Corps is now being directly targeted by the German war effort. Left to her own devices, Ginger has to find out how the Germans are targeting the Spirit Corps and stop them. This is a difficult and dangerous task for a woman of that era, but this time both the spirit and the flesh are willing…
Glamour in Glass (Glamourist Histories Book 2)
ISBN: 0765325616 OCLC: 795010283 Tor, New York : 2013. Newlyweds Jane and David Vincent travel to Belgium, and their ability to create invisibility via glamour makes them a target for emperor Napoleon's returning forces.
Molly on the Moon
ISBN: 1250259614 OCLC: Roaring Brook Press 2022 When Molly and her family move to the moon, they can only pack the essentials―just one toy each for Molly and her baby brother, Luke. Luckily, Molly has a big imagination. A packing crate becomes a fort, a tarp becomes a witch's cape, and some cans become a tea set. Baby Luke, on the other hand . . . has blocks. Molly doesn't want to share. At first. But then she realizes that when you're on the moon―or anywhere else―a big imagination and being with someone you love can be infinitely better than all the toys in the universe. Inspiring and imaginative, Molly on the Moon also includes fascinating facts about the moon's environment, revealing how the differences in gravity, temperature, and time would affect our lives.
Of Noble Family (Glamourist Histories Book 5)
ISBN: 0765378361 OCLC: 879582568 Jane and Vincent have finally gotten some much-needed rest after their adventures in Italy when Vincent receives word that his estranged father has passed away on one of his properties in the West Indies. His brother, who manages the estate, is overwhelmed, and no one else in his family can go. Grudgingly, out of filial duty the couple decide to go. The sea voyage is long, and Jane spends enough time unable to perform glamour that towards the end of the trip she discovers that she is with child. They are overjoyed, but when they finally arrive at the estate to complete what they expect to be routine legal tasks, they realize that nearly everything they came expecting to find had been a lie. Also, the entire estate is in disarray, with horrifying conditions and tensions with the local slave population so high that they are close to revolt. Jane and Vincent's sense of peril is screaming out for them to flee, but Vincent cannot stand to leave an estate connected with his family in such a condition. They have survived many grand and terrifying adventures in their time, but this one will test their skills and wits more than any they have ever encountered before, this time with a new life hanging in the balance. Mary Robinette Kowal's Of Noble Family is the final book of the acclaimed Glamourist Histories.
Scenting the Dark
ISBN: 1596062673 OCLC: Burton, MI : Subterranean Burton, MI : 2009 These things await you: Love and hope in the aftermath of a very personal environmental apocalypse. Fear that comes in being trapped in your own body, enslaved by your own faulty synapses. Dread in a cure that works in unexpected ways. Discovery of what you've always known, but couldn't face, about your own lover. Explore these and more in the seven beautiful, wounded landscapes of Scenting the Dark, the first collection from Campbell Award-winner Mary Robinette Kowal. Her lean, vigorous style has been satisfying readers since 2006, including multiple appearances in Year's Best lists. The stories here lay bare the ways we try to prevent, contain and repair the damaged world around us, the further harm we can cause by trying, and why every moment of joyous, defiant struggle is worth it--if you have love enough, and hope.
Shades of Milk and Honey (Glamourist Histories Book 1)
ISBN: 0765325608 OCLC: 471820036 Tor, New York : 2010. In a Jane Austen-inspired alternate universe, two sisters, one beautiful and the other skilled in the glamour arts, test the limits of their gifts on an unscrupulous suitor.
The Calculating Stars: A Lady Astronaut Novel
ISBN: 0765378388 OCLC: 1033567216 On a cold spring night in 1952, a huge meteorite fell to earth and obliterated much of the east coast of the United States, including Washington D.C. The ensuing climate cataclysm will soon render the earth inhospitable for humanity, as the last such meteorite did for the dinosaurs. This looming threat calls for a radically accelerated effort to colonize space, and requires a much larger share of humanity to take part in the process. Elma York's experience as a WASP pilot and mathematician earns her a place in the International Aerospace Coalition's attempts to put man on the moon, as a calculator. But with so many skilled and experienced women pilots and scientists involved with the program, it doesn't take long before Elma begins to wonder why they can't go into space, too. Elma's drive to become the first Lady Astronaut is so strong that even the most dearly held conventions of society may not stand a chance against her.
The Fated Sky: A Lady Astronaut Novel
ISBN: 076539894X OCLC: 1048006486 Of course the noted Lady Astronaut Elma York would like to go, but there's a lot riding on whoever the International Aerospace Coalition decides to send on this historic—but potentially very dangerous—mission? Could Elma really leave behind her husband and the chance to start a family to spend several years traveling to Mars? And with the Civil Rights movement taking hold all over Earth, will the astronaut pool ever be allowed to catch up, and will these brave men and women of all races be treated equitably when they get there? This gripping look at the real conflicts behind a fantastical space race will put a new spin on our visions of what might have been.
The Relentless Moon: A Lady Astronaut Novel
ISBN: 1250236959 OCLC: 1148466225 Tor 2020 The Earth is coming to the boiling point as the climate disaster of the Meteor strike becomes more and more clear, but the political situation is already overheated. Riots and sabotage plague the space program. The IAC's goal of getting as many people as possible off Earth before it becomes uninhabitable is being threatened. Elma York is on her way to Mars, but the Moon colony is still being established. Her friend and fellow Lady Astronaut Nicole Wargin is thrilled to be one of those pioneer settlers, using her considerable flight and political skills to keep the program on track. But she is less happy that her husband, the Governor of Kansas, is considering a run for President.
The Spare Man
ISBN: 1250829151 OCLC: Tor Books 2022 Tesla Crane, a brilliant inventor and an heiress, is on her honeymoon on an interplanetary space liner, cruising between the Moon and Mars. She's traveling incognito and is reveling in her anonymity. Then someone is murdered and the festering chowderheads who run security have the audacity to arrest her spouse. Armed with banter, martinis and her small service dog, Tesla is determined to solve the crime so that the newlyweds can get back to canoodling―and keep the real killer from striking again.
Valour and Vanity (Glamourist Histories Book 4)
ISBN: 0765334186 OCLC: 879582516 Acclaimed fantasist Mary Robinette Kowal has enchanted many fans with her beloved novels featuring a Regency setting in which magic—known here as glamour—is real. In Valour and Vanity, master glamourists Jane and Vincent find themselves in the sort of a magical adventure that might result if Jane Austen wrote Ocean's Eleven. After Melody's wedding, the Ellsworths and Vincents accompany the young couple on their tour of the continent. Jane and Vincent plan to separate from the party and travel to Murano to study with glassblowers there, but their ship is set upon by Barbary corsairs while en route. It is their good fortune that they are not enslaved, but they lose everything to the pirates and arrive in Murano destitute. Jane and Vincent are helped by a kind local they meet en route, but Vincent is determined to become self-reliant and get their money back, and hatches a plan to do so. But when so many things are not what they seem, even the best laid plans conceal a few pitfalls. The ensuing adventure is a combination of the best parts of magical fantasy and heist novels, set against a glorious Regency backdrop.
Without a Summer (Glamourist Histories Book 3)
ISBN: 9780765334176 OCLC: 880765589 Regency-era glamourists Jane and Vincent Ellsworth, while visiting Jane's family, hope to bolster Melody's chances for a good marriage by accepting a commission from a prominent London family, a job that embroils them in an international crisis.
Word Puppets
ISBN: 1607014564 OCLC: 913057148 Celebrated as the author of five acclaimed historical fantasy novels in the Glamourist series, Mary Robinette Kowal is also well known as an award-winning author of short science fiction and fantasy. Her stories encompass a wide range of themes, a covey of indelible characters, and settings that span from Earth's past to its near and far futures as well as even farther futures beyond. Alternative history, fairy tales, adventure, fables, science fiction (both hard and soft), fantasy (both epic and cozy)—nothing is beyond the reach of her unique talent. WORD PUPPETS—the first comprehensive collection of Kowal's extraordinary fiction-includes her two Hugo-winning stories, a Hugo nominee, an original story set in the world of "The Lady Astronaut of Mars," and fourteen other show-stopping tales.