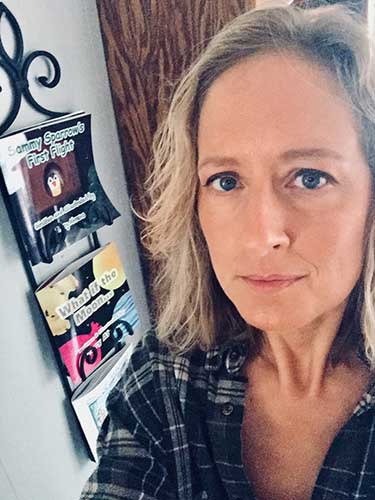 Tracy Ahrens
Born:
1970 in Kankakee, Illinois
Pen Name:
None
Connection to Illinois
: Ahrens was born in Kankakee. She graduated from Eureka College.
Biography
: Tracy Ahrens graduated with a degree in English from Eureka College in Eureka, Illinois. Since then, she has been a journalist and an editor for various publications. Currently, she is a freelance writer. Her professional writing memberships include the Illinois Woman's Press Association and the National Federation of Press Women. She is also a member of the Dog Writers Association of America and Cat Writers' Association. Ahrens has published four children's books, two non-fiction books and two books of poetry. She illustrated three of her children's books. Six of her books are by traditional publishers. Her books of poetry, ďI AmĒ and ďNature will HealĒ are available through Finishing Line Press https://www.finishinglinepress.com/. See Tracyís website at www.tracyahrens.weebly.com.
---
Awards
:
-- Over 66 top journalism and editing awards in Illinois and across the country.
Primary Literary Genre(s):
Fiction; Non-Fiction; Poetry
Primary Audience(s):
Adult readers; Children
E-Mail:
mylittleforie@yahoo.com
Twitter:
https://twitter.com/tracyahrens
Website:
https://www.tracyahrens.weebly.com
Tracy Ahrens on WorldCat:
http://www.worldcat.org/search?q=tracy+ahrens
---
Selected Titles
Cloud Jumpers
ISBN: 9781933090535 OCLC: 913220790 Guardian Angel Publishing 2007 Children often imagine that clouds look like animals and numbers. Cloud jumpers live in these shapes and are looking back at you.
Come With Me
ISBN: 1798762560 OCLC: Kindle Direct Publishing. . As the author herself battled cancer, Tracy Ahrens was inspired by the strength and tenderness that young Kate Amato had as she also fought this terrible disease. 'ÄúCome With Me'ÄĚ gently carries the reader through the beauty and wonder of life, even if it is only a dream. Never forget your dreams. They will magically take you to where you want to be.
Giant Hero
ISBN: 9780741449481 OCLC: 262432594 Infinity Publishing.com, West Conshohoken, PA : 2008. Giant Hero is one couple s intimate story about infant loss, choosing life over abortion, spiritual growth and a valuable resource guide for a rare congenital birth defect called Potter s Syndrome.
I Am
ISBN: 9781635342512 OCLC: Finishing Line Press. . A book of poems that will speak to anyone who has endured a broken heart.
Nature will Heal
ISBN: 9781599249957 OCLC: Finishing Line Press. . A microscopic observation of nature that clarifies ethereal means of healing and comprehending existence.
Raising my Furry Children
ISBN: 9780982487679 OCLC: 781716631 Weaving Dreams Publishing, Watseka, Illinois : 2011. 'Raising My Furry Children is an affectionate account of one person's experiences with her beloved furry children. Originally introduced in a newspaper column, these humorous, and sometimes sad, recollections will touch the heart of every pet owner.--Amazon.com.
Sammy Sparrow's First Flight
ISBN: 161633584X OCLC: 907934885 Guardian Angel Publishing 2014 Parents set rules for their children for a reason. Sammy Sparrow quickly learns why while trying to fly alone at night.
What if the Moon ...
ISBN: 1933090561 OCLC: 913221070 Guardian Angel Publishing 2008 "The moon transforms into a grape, an orange and chocolate chip cook in 'What if the Moon ... ' The poetic text expands a child's imagination while teaching about colors and shapes."--Back cover.