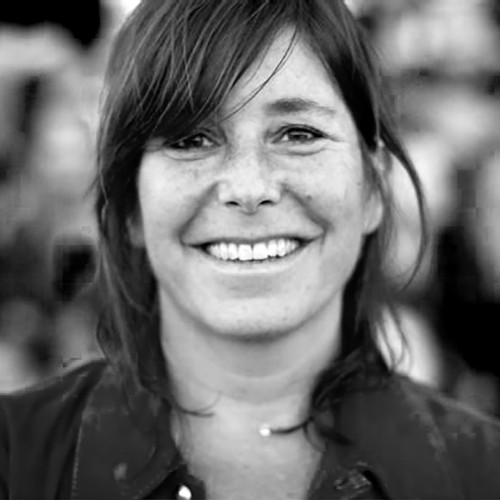 Amy Krouse Rosenthal
Born:
April 29, 1965 in Chicago
Died:
March 13, 2017 in Chicago
Pen Name:
None
Connection to Illinois
: Rosenthal was a Chicago native.
Biography
: Amy Krouse Rosenthal was a beloved author of both adult and children's books.
---
Awards
:
"""I Wish You More"""
-- New York Times Bestseller
"""I Sream! Ice Cream!"""
-- Ten Best Kids Books List for Spring, Grandparents.com
"""Wumbers"""
-- 10 Best Fiction Picture Books, School Library Journal, 2012
"""Bedtime for Mommy"""
-- Kids' Next List, Indie Booksellers, Spring 2010
"""Uni the Unicorn"""
-- NY Times Bestseller
-- Indie Bestseller
"""That's Me Loving You"""
-- Top picture book for December, Barnes & Noble
-- Best New Picture Book list, Children's Book Review
-- New Picture Books list, Kidsreads
-- Indie Next Kid's List Ranked #5, ABA
-- Top 5 book this winter, Needy Reader
"""Exclamation Mark!"""
-- Indiebound Bestseller
-- Starred Review, Kirkus
-- Starred Review, Booklist
-- Fresh Picks for Little Readers List, Daily Candy
-- Pick of the Day, School Library Journal
"""Spoon"""
-- Best Picture Book Runner-Up, Colorado Children's Book, 2013
-- Soon-to-be-Classic Children's Book, Real Simple Magazine
"""Awake Beautiful Child"""
-- Starred Review, Publishers Weekly
"""This Plus That: Life's Little Equations"""
-- Starred Review, Kirkus
"""Chopsticks"""
-- Notable Children's Books List, NCTE, Fall 2013
-- Baker's Dozen, Pennsylvania Center for the Book, 2013
-- Best of the Best Books for Kids, Chicago Public Library, 2013
-- Teachers' Choice, IRA/CBC, 2013
-- Notable Children's Book in the Language Arts, 2013
-- Young Hoosier Book Award Master List, 2013
-- Junior Library Guild Selection, 2012
"""Dear Girl,"""
-- New York Times Bestseller
-- Starred Review, School Library Journal
"""Little Pea"""
-- Starred Review, Kirkus
Primary Literary Genre(s):
Fiction; Non-Fiction
Primary Audience(s):
Adult readers; Children
Website:
http://www.whoisamy.com/
Website:
https://www.amykrouserosenthalfoundation.org/
Wikipedia:
https://en.wikipedia.org/wiki/Amy_Krouse_Rosenthal
---
Selected Titles
A valentine for Uni the Unicorn /
ISBN: 1984850229 OCLC: 1130253044 Return to the world of the magical bestsellers Uni the Unicorn and Uni the Unicorn and the Dream Come True with the first original Uni board book! A perfect Valentine's Day gift for any unicorn lover! In this all-new board book based on the New York Times bestselling Uni the Unicorn, everyone's favorite unicorn is hoping to receive a valentine from someone very special...YOU! Uni fans will be delighted to return to the magical land of unicorns for this special Valentine's Day treat.
Al Pha's bet
ISBN: 9780399246012 OCLC: 646111898 G.P. Putnam's Sons, New York : ©2011. Al Pha makes a bet with himself that he can invent the perfect order for the twenty-six letters.
Awake beautiful child :
ISBN: 1938073924 OCLC: 866622840 New York Times best-selling picture-book author Amy Krouse Rosenthal teams with award-winning artist Gracia Lam to tell the sweet, simple story of a young child's typical day--from morning to bedtime. Like the title, each scene is described in three-word "ABC" phrases, such as "All Begins Cheerily" and "Always Be Curious" Secret "ABC" scenes hidden throughout the artwork--as a secondary "seek and find" game of sorts--encourage multiple readings and reward close-looking. An ideal read-aloud book to read just after waking or just before bed.
Bedtime for Mommy /
ISBN: 1599903415 OCLC: 349180009 In a reversal of the classic bedtime story, a child helps her mommy get ready for bed, enduring pleas for one more book, five more minutes of play time, and a glass of water before the lights go out.
CHOO-CHOO SCHOOL.
ISBN: 0763697427 OCLC: 1120974753
Chopsticks /
ISBN: 1423107969 OCLC: 722449155 When a pair of chopsticks get separated, after some traumatic moments the two friends eventually learn to stand on their own.
Christmas cookies :
ISBN: 9780060580247 OCLC: 191931361 Presents vocabulary words and holiday lessons using Christmas cookies as the theme of the book.
Cookies: Bite-Size Life Lessons
ISBN: 006058081X OCLC: 60557457 A very easy look at values and behavior.
Dear Girl /
ISBN: 0062422502 OCLC: 978287196 Encourages readers to accept and love themselves as they are and advises them to be confident, curious, adaptable, and willing to speak up.
Don't blink! /
ISBN: 0385391870 OCLC: 885026446 "A page turns every time you blink, bringing you closer to the end of the book--and bedtime"--
Duck! Rabbit! /
ISBN: 0811868656 OCLC: 243601706 From the award-winning author of Little Pea, Little Hoot, and Little Oink comes a clever take on the age-old optical illusion: Is it a duck or a rabbit? Depends on how you look at it! Readers will find more than just Amy Krouse Rosenthal's signature humor here, there's also a subtle lesson for kids who don't know when to let go of an argument. A smart, simple story that will make readers of all ages eager to take a side, Duck! Rabbit! makes it easy to agree on one thing, reading it again!
Encyclopedia of an ordinary life :
ISBN: 9781400080465 OCLC: 55494922 Crown Publishers, New York : ©2005. An offbeat memoir is written in the form of an encyclopedia in which the author chronicles her life through a series of alphabetical entries that cover both the trivial and the essential elements of her world as she ponders everything from love and truth to shower tiles.
Exclamation mark /
ISBN: 0545436796 OCLC: 801928210 A punctuation mark feels bad that he does not fit in with the others until a friend reveals the possibilities that exist when differences are accepted.
Friendshape /
ISBN: 0545436826 OCLC: 900624085 Friends shape who we are. They make us laugh. They fill us with fun. They stand by us during life's up and downs. And even when we disagree with our friends, if they're tried-and-true, they don't stay bent out of shape for long. That's the beauty of a good buddy. This joyous book rejoices in the simple beauties of friendship, and reminds readers of all ages that it's good to have a group of pals--Provided by publisher.
Holy cow, I sure do love you! :
ISBN: 1419722174 OCLC: 938991265 A series of simple illustrations of a spotted cow paired with bovine puns share all the ways to love someone.
I scream-- ice cream! :
ISBN: 1452100047 OCLC: 747533083 "What do 'I Scream!' and 'Ice Cream!' have in common? Nothing--besides the fact that they sound the same! The ever-surprising Amy Krouse Rosenthal unleashes her prolific wit in this silly and smart book of wordplay. Perfectly complemented by equally clever illustrations from the talented and internationally renowned Serge Bloch, this mind-bending book will have young readers thinking about words in an entirely new way!"--Provided by publisher.
I wish you more /
ISBN: 1452126992 OCLC: 859253227 In simple text and pictures, the author and illustrator create a compendium of small daily moments.
It's not fair /
ISBN: 0061152579 OCLC: 145377987 Assorted children, animals, creatures, and objects all wonder why life is not always fair.
Little Hoot /
ISBN: 1452152071 OCLC: 944120395 Little Hoot wants to go to bed early, like all of his friends do, and he is hopping mad when Mama and Papa Owl insist that he stay up late and play.
Little Miss, big sis /
ISBN: 0062302035 OCLC: 872382225 Illustrations and simple, rhyming text follow Little Miss as she learns to be a wonderful big sister.
Little Oink /
ISBN: 1452153191 OCLC: 973336367 Little Oink is a neat little pig, but his parents will not allow him to play until he is messy, as pigs should be.
Little Pea ;
ISBN: 1933938706 OCLC: 549617983 Nutmeg Media, [United States] : [2009] Little Pea: Little Pea doesn't like the candy his parents want him to eat for dinner and craves vegetables instead!; Little Hoot: Little Hoot doesn't want to stay up late as his parents insist and yearns to go to bed at a reasonable hour like his friends!; Little Oin: Little Oink doesn't like to be messy and wants to keep his room clean and tidy, must to his parents' chagrin!
On the spot :
ISBN: 1101932309 OCLC: 948667307 Readers are asked to provide objects, which are then inserted in blank spaces in the rhyming story about a child's active day.
One of those days /
ISBN: 0399243658 OCLC: 61261214 Children show that even when you have an unpleasant Sad for no Reason Day, an Itchy Sweater Day, or an Annoying Sibling Day, you can expect a better day tomorrow.
One smart cookie :
ISBN: 0061429708 OCLC: 435967529 Presents vocabulary words and life lessons, with cookie-baking as the theme of the book.
Plant a kiss /
ISBN: 0062416529 OCLC: 907144158 One small act of love blooms into something bigger and more dazzling than Little Miss could have ever imagined.
Spoon /
ISBN: 1423106857 OCLC: 301409607 Spoon's always been a happy little utensil. But lately, he feels like life as a spoon just isn't cutting it. He thinks Fork, Knife, and The Chopsticks all have it so much better than him. But do they? And what do they think about Spoon?
Straw.
ISBN: 1484749553 OCLC: 1115010393
Sugar cookies :
ISBN: 0061740721 OCLC: 276514817 Baking cookies teaches us many lessons about life and love. Includes a recipe for sugar cookies.
That's me loving you /
ISBN: 9781101932384 OCLC: 945767157 Shares messages about how a parent's presence and devotion can be recognized in the natural world, from a soft breeze to a shimmering star.
The book of eleven :
ISBN: 0836267753 OCLC: 38602725
The mother's guide to the meaning of life :
ISBN: 1510731032 OCLC: 982102283 Rosenthal has compiled a "scrapbook" of the kinds of things disheartened or over-whelmed mothers need to hear. She reminds moms that it's OK if their kids don't like them all the time, and that every mom fantasizes about running away. Her warm and hilarious guide share the warmth, joy, and purpose that make mothering such a rewarding job.
The mother's guide to the meaning of life :
ISBN: 1579543421 OCLC: 45439857 Daybreak Books ; [Emmaus, PA] : ©2001. A mother shares the lessons she has learned while raising her three children in a realistic and humorous fashion.
The OK book /
ISBN: 0061152552 OCLC: 73741648 A character enumerates a great many things that it enjoys doing, although not great at any of them, knowing that someday it will excel at something.
The same phrase describes my marriage and my breasts :
ISBN: 0740700502 OCLC: 40990226
The wonder book /
ISBN: 0061429740 OCLC: 419854613 Poems, brief stories, word games, and palindromes let children have fun with words and also learn various facts and concepts.
This plus that :
ISBN: 0061726559 OCLC: 256761656 Simple arithmetical equations show how big and small moments add up in life.
Uni goes to school :
ISBN: 198485027X OCLC: 1107107136 Uni is eager to learn how to use her horn to fix things, but her teacher, Mr. Wise, says she must practice her magic and also use her heart.
Uni the unicorn /
ISBN: 0385375557 OCLC: 835116154 Uni the unicorn believes that little girls are real.
Uni the unicorn and the dream come true /
ISBN: 1101936592 OCLC: 970030428 A powerful, shared wish helps Uni the unicorn and the little girl who believes in him to save the land of unicorns from seemingly endless rain.
Uni's first sleepover /
ISBN: 1984850237 OCLC: 1061798003 When Uni the unicorn goes to her first sleepover, the other girls are better at every game, but later Uni has the opportunity to share her special talent.
Wumbers :
ISBN: 1452141223 OCLC: 799046225 Chronicle Books, San Francisco, Calif. : 2012. Shares illustrated clues and alphanumeric combinations that substitute numbers for letters with the same sound.
Yes Day! /
ISBN: 0061152595 OCLC: 236082065 A little boy gets everything he asks for on Yes Day, a special day that only comes once a year.