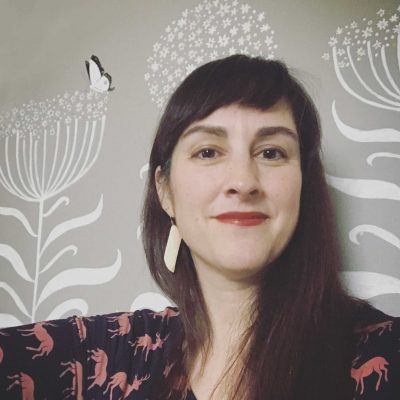 Diana Sudyka
Born:
Pen Name:
None
Connection to Illinois
: Sudyka lives in Chicago. She received a master of fine arts degree from Northwestern University.
Biography
: Diana Sudyka is a Chicago based illustrator. Early on, she created screen-printed gig posters for musicians but currently her illustration work focuses on young adult, middle grade, and children's books. She has illustrated several volumes of the award-winning book series The Mysterious Benedict Society by Trenton Lee Stewart and Circus Mirandus by Cassie Beasley, as well as the picture books Sometimes Rain by Meg Fleming and What Miss Mitchell Saw by Hayley Barrett.
---
Awards
:
Primary Literary Genre(s):
Illustrator
Primary Audience(s):
Children; Young adult readers
:
---
Selected Titles
Every single second /
ISBN: 0062366289 OCLC: 921864782 Twelve-year-old Nella Sabatini's life is changing too soon, too fast. Her best friend, Clem, doesn't seem concerned; she's busy figuring out the best way to spend the "leap second"--An extra second about to be added to the world's official clock. The only person who might understand how Nella feels is Angela, but the two of them have gone from being "secret sisters" to not talking at all. Then Angela's idolized big brother makes a terrible, fatal mistake, one that tears apart their tight-knit community and plunges his family into a whirlwind of harsh publicity and judgment. In the midst of this controversy, Nella is faced with a series of startling revelations about her parents, friends, and neighborhood. As Angela's situation becomes dangerous, Nella must choose whether to stand by or stand up.
The extraordinary education of Nicholas Benedict /
ISBN: 0316176192 OCLC: 756586135 In this prequel to the Mysterious Benedict Society series, nine-year-old Nicholas Benedict, an orphan afflicted with an unfortunate nose and with narcolepsy, is sent to a new orphanage where he encounters vicious bullies, selfish adults, strange circumstances, and a mystery that could change his life forever.
The mysterious Benedict society :
ISBN: 0316181935 OCLC: 708761950 Little, Brown and Co., New York : 2011. This companion volume to the best-selling Mysterious Benedict Society series features write-in and page-folding puzzles, riddles and brain teasers compiled by Mr. Benedict and his students to help fans determine if they are eligible society members. Volume includes a one-chapter preview of the series prequel The Extraordinary Education of Nicholas Benedict.
The mysterious Benedict Society and the perilous journey /
ISBN: 0316057800 OCLC: 171287572 Little, Brown, New York : 2008. Reynie, Kate, Sticky, and Constance, all graduates of the Learning Institute for the Very Enlightened and members of the Benedict Society, embark on a scavenger hunt that turns into a desperate search for the missing Mr. Benedict.
The secret keepers /
ISBN: 0316389552 OCLC: 935195800 "When twelve-year-old Reuben finds a peculiar, magical watch that has the power to turn its wearer invisible, he's propelled on the adventure of a lifetime"--
What Miss Mitchell saw /
ISBN: 1481487590 OCLC: 1083699232 "Every evening, from the time she was a child, Maria Mitchell stood on her rooftop with her telescope and swept the sky. And then one night she saw something unusual--a comet no one had ever seen before! Miss Mitchell's extraordinary discovery made her famous the world over and paved the way for her to become America's first professional female astronomer."--
When Sue found Sue :
ISBN: 1419731637 OCLC: 1019844598 "From a very young age, Sue Hendrickson was meant to find things: lost coins, perfume bottles, even hidden treasure. Her endless curiosity eventually led to her career in diving and paleontology, where she would continue to find things big and small. In 1990, at a dig in South Dakota, Sue made her biggest discovery to date: Sue the T. rex, the largest and most complete T. rex skeleton ever unearthed. Named in Sue's honor, Sue the T. rex would be placed on permanent exhibition at the Field Museum of Natural History in Chicago. Finder! inspires readers to take a closer look at the world around them and to never lose their brave, adventurous spirits"--