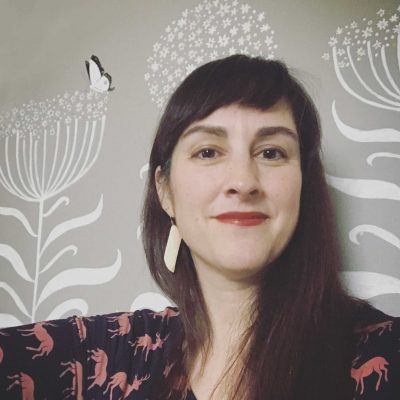 Diana Sudyka
Born:
Pen Name:
None
Connection to Illinois
: Sudyka lives in Evanston. She received a Master of Fine Arts degree from Northwestern University.
Biography
: Diana Sudyka is a Chicago based illustrator. Early on, she created screen-printed gig posters for musicians but currently her illustration work focuses on young adult, middle grade, and children's books. She has illustrated several volumes of the award-winning book series - The Mysterious Benedict Society by Trenton Lee Stewart and Circus Mirandus by Cassie Beasley, as well as the picture books - Sometimes Rain by Meg Fleming and What Miss Mitchell Saw by Hayley Barrett.
---
Awards
:
Would You Come Too? Illinois Reads Book Selection, Illinois Reading Council, 2023
Primary Literary Genre(s):
Fiction; Illustrator; Non-Fiction
Primary Audience(s):
Children; Young adult readers
E-Mail:
dsudyka@comcast.net
Instagram:
https://www.instagram.com/tinyaviary/
Web:
https://www.dianasudyka.com
---
Selected Titles
Dear Treefrog
ISBN: 0358064767 OCLC: Clarion Books 2021 Capturing the joy of finding a kindred spirit, this stunning picture book by Newbery Honor–winning poet Joyce Sidman tells the story of a lonely girl moving into a new home and the little treefrog that helps her connect to the beautiful world around her. Perfect for fans of A Butterfly Is Patient and They Saw a Cat.I See Yousuddenlyamong the tangled greena tiny dollop offrogwhere beforethere was only leaf . . . Are you new here too?When a shy girl moves to a strange new home, she discovers a treefrog perched in a secret spot nearby and learns that sometimes, all it takes to connect with the people and the world around us is a little patience, a curious mind, and a willingness to see the world through a different perspective than your own. With beautiful gouache illustrations by Diana Sudyka and magical, perceptive poems from Newbery Honor–winning author Joyce Sidman, the lives of one tree frog and the girl who discovers it converge, bringing solace, courage, and joy in finding a kindred spirit.
Every Single Second
ISBN: 0062366297 OCLC: Balzer + Bray 2017 A poignant and topical middle grade novel about the effects of an accidental shooting on family, friendship, and community. Perfect for fans of Rebecca Stead and Rita Williams-Garcia. Now available in paperback.A single second. That's all it takes to turn a world upside-down.Twelve-year-old Nella Sabatini's life is changing too soon, too fast. Her best friend Clem doesn't seem concerned; she's busy figuring out the best way to spend the "leap second"—an extra second about to be added to the world's official clock.The only person who might understand how Nella feels is Angela, but the two of them have gone from being "secret sisters" to not talking at all.Then Angela's idolized big brother makes a terrible, fatal mistake, one that tears apart their tight-knit community and plunges his family into a whirlwind of harsh publicity. In the midst of this controversy, Nella is faced with startling revelations about her parents, friends, and neighborhood. Soon she must choose whether to stand by or stand up.The clock ticks down, and in that extra second, past and present merge—the future will be up to Nella.
How to Find a Bird
ISBN: 1481467050 OCLC: Beach Lane Books 2020 A joyful and informative guide to birdwatching for budding young birders from an award-winning author-illustrator duo.How do you find a bird? There are so many ways! Begin by watching. And listening. And staying quiet, so quiet you can hear your own heartbeat. Soon you'll see that there are birds everywhere—up in the sky, down on the ground, sometimes even right in front of you just waiting to be discovered!Young bird lovers will adore this lushly illustrated introduction to how to spot and observe our feathered friends. It features more than fifty different species, from the giant whooping crane to the tiny ruby-throated hummingbird, and so many in between, and a detailed author's note provides even more information about birding for curious readers. This celebration of the wondrous variety, colors, and sounds of the avian world is sure to have children grabbing their binoculars and heading outside to explore.
Little Land
ISBN: 0316301760 OCLC: Little, Brown Books for Young Readers 2023 Inspire a love of nature in young readers with this gorgeous, simple guide—and learn how, through millennia of transformations, life and land have always found a way to begin anew, for nature-loving fans of Kate Messner's Over and Under series. Do you know a little bit of land? It could be smaller than you expect. But its importance is bigger than you know. From the prehistoric past to the dramatic environmental change of right here and now, the land has countless stories to tell. You, too, are a part of the land. Listen, and you will understand what it needs to stay in balance.A breathtaking exploration of the connections between life and land central to the past, present, and future of our planet, Little Land invites young readers to think about ways in which they engage with the environment in their own lives.
Scribbles, Sorrows, and Russet Leather Boots: The Life of Louisa May Alcott
ISBN: 0763694355 OCLC: Candlewick 2021 Insightful, exciting, and deeply moving, Liz Rosenberg's distinctive portrait of the author of Little Women reveals some of her life's more complex and daring aspects.Moody and restless, teenage Louisa longed for freedom. Faced with the expectations of her loving but hapless family, the Alcotts, and of nineteenth-century New England society, Louisa struggled to find her place. On long meandering runs through the woods behind Orchard House, she thought about a future where she could write and think and dream. Undaunted by periods of abject poverty and enriched by friendships with some of the greatest minds of her time and place, she was determined to have this future, no matter the cost.Drawing on the surviving journals and letters of Louisa and her family and friends, author and poet Liz Rosenberg reunites Louisa May Alcott with her most ardent readers. In this warm and sometimes heartbreaking biography, Rosenberg delves deep into the oftentimes secretive life of a woman who was ahead of her time, imbued with social conscience, and always moving toward her future with a determination that would bring her fame, tragedy, and the realization of her biggest dreams.
Sir Gawain and the Green Knight.
ISBN: 0606147837 OCLC: The Folio Society 2008
Sometimes Rain
ISBN: 148145918X OCLC: Beach Lane Books 2018 Celebrate the four seasons of the year and all of the fun that comes with them with this lyrical, rhyming picture book from the author of I Heart You.Sometimes it rains, sometimes it snows, sometimes the sun shines, and sometimes the trees change color. But no matter what the seasons bring, there is lots of fun to be had! This lyrical exploration of the four seasons and all of the wonder that they bring is illustrated with vibrant watercolors.
The Extraordinary Education of Nicholas Benedict
ISBN: 0316176192 OCLC: 756586135 In this prequel to the Mysterious Benedict Society series, nine-year-old Nicholas Benedict, an orphan afflicted with an unfortunate nose and with narcolepsy, is sent to a new orphanage where he encounters vicious bullies, selfish adults, strange circumstances, and a mystery that could change his life forever.
The Mysterious Benedict Society and the Perilous Journey (The Mysterious Benedict Society, 2)
ISBN: 0316057800 OCLC: 171287572 Little, Brown, New York : 2008. Reynie, Kate, Sticky, and Constance, all graduates of the Learning Institute for the Very Enlightened and members of the Benedict Society, embark on a scavenger hunt that turns into a desperate search for the missing Mr. Benedict.
The Mysterious Benedict Society and the Prisoner's Dilemma (The Mysterious Benedict Society, 3)
ISBN: 0316045500 OCLC: Little, Brown Books for Young Readers 2010 Join the Mysterious Benedict Society as Reynie, Kate, Sticky, and Constance embark on a daring new adventure that threatens to force them apart from their families, friends, and even each other. When an unexplained blackout engulfs Stonetown, the foursome must unravel clues relating to a nefarious new plot, while their search for answers brings them closer to danger than ever before.
The Mysterious Benedict Society: Mr. Benedict's Book of Perplexing Puzzles, Elusive Enigmas, and Curious
ISBN: 0316181935 OCLC: 708761950 Little, Brown and Co., New York : 2011. This companion volume to the best-selling Mysterious Benedict Society series features write-in and page-folding puzzles, riddles and brain teasers compiled by Mr. Benedict and his students to help fans determine if they are eligible society members. Volume includes a one-chapter preview of the series prequel The Extraordinary Education of Nicholas Benedict.
The Secret Keepers
ISBN: 0316389552 OCLC: 935195800 A New York Times Bestseller! By the author of The Mysterious Benedict Society, this heart-pounding mystery adventure is laced with magic and humor.When Reuben discovers an extraordinary antique watch with a secret power, his life takes an intriguing turn. As one secret leads to another, Reuben finds himself torn between his honest nature and the lure to be a hero.Now he is on a dangerous adventure--full of curious characters, treacherous traps, and hairsbreadth escapes--as he races to solve the mystery before it is too late. With fearless Penny, mighty Jack, and the wise Mrs. Genevieve on his side, can Reuben outwit a sly villain called The Smoke and save the city from a terrible fate?In this ingeniously crafted novel, acclaimed author Trenton Lee Stewart invites readers to join the adventure, decipher the clues, and ask themselves the question: Is knowing a secret a gift or a curse?
What Miss Mitchell saw /
ISBN: 1481487590 OCLC: 1083699232 Discover the amazing true story of Maria Mitchell, America's first professional female astronomer.Every evening, from the time she was a child, Maria Mitchell stood on her rooftop with her telescope and swept the sky. And then one night she saw something unusual—a comet no one had ever seen before! Miss Mitchell's extraordinary discovery made her famous the world over and paved the way for her to become America's first professional female astronomer.Gorgeously illustrated by Diana Sudyka, this moving picture book about a girl from humble beginnings who became a star in the field of astronomy is sure to inspire budding scientists everywhere.
When Sue Found Sue: Sue Hendrickson Discovers Her T. Rex
ISBN: 1419731637 OCLC: 1019844598 From a very young age, Sue Hendrickson was meant to find things: lost coins, perfume bottles, even hidden treasure. Her endless curiosity eventually led to her career in diving and paleontology, where she would continue to find things big and small. In 1990, at a dig in South Dakota, Sue made her biggest discovery to date: Sue the T. rex, the largest and most complete T. rex skeleton ever unearthed. Named in Sue's honor, Sue the T. rex would be placed on permanent exhibition at the Field Museum of Natural History in Chicago. When Sue Found Sue inspires readers to take a closer look at the world around them and to never lose their brave, adventurous spirits.
Would You Come Too?
ISBN: 1534452060 OCLC: Beach Lane Books 2022 This whimsical and poignant picture book celebrates playing outside and invites readers to grab some friends, gear up their imaginations, and immerse themselves in nature.Can you imagine what it's like to be a rock, a nest, a bird, or even a bubbling creek? A group of curious children is headed outside to find out… Would you come, too? Join in on an outdoor adventure to discover the magic and mystery of the living, breathing natural world all around us.