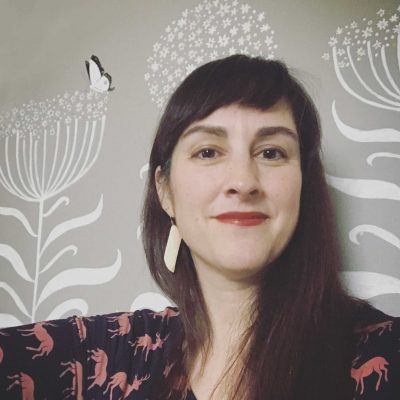 Halle Butler
Born:
Pen Name:
None
Connection to Illinois
: Butler lives in Chicago. She graduated with a BFA from the School of the Art Institute of Chicago in 2008.
Biography
: Halle Butler is a writer whose work has been published in Hobart, Proximity Magazine, and redlightbulbs. She also co-writes movies, the most recent of which, Crimes Against Humanity, has screened at the Gene Siskel Film Center and Doc Films. She has been named a National Book Award Foundation '5 Under 35' honoree and a Granta Best Young American Novelist.
---
Awards
:
"""The New Me"""
-- 11 notable Chicago books of 2019, Chicago Tribune
Primary Literary Genre(s):
Fiction
Primary Audience(s):
Adult readers
Blog:
https://aitchbutle.blogspot.com/
E-Mail:
hbutle@gmail.com
Website:
https://www.hallebutler.com/
Website:
https://www.nationalbook.org/people/halle-butler/
Wikipedia:
https://en.wikipedia.org/wiki/Halle_Butler
---
Selected Titles
Jillian /
ISBN: 1940430291 OCLC: 875240573 Megan, a bitter young medical secretary, takes a break from her overwhelming feelings of social rejection by keeping track of the disgusting habits of her co-worker, Jillian. Meanwhile, Jillian's misguided "go for it!" attitude leads her towards a series of unadvisable decisions.
The new me /
ISBN: 0143133608 OCLC: 1041193540 "Thirty-year-old Millie just can't pull it together. Misanthropic and morose, she spends her days killing time at a thankless temp job until she can return home to her empty apartment, where she oscillates wildly between self-recrimination and mild delusion, fixating on all the little ways she might change her life. Then she watches TV until she drops off to sleep, and the cycle begins again. When the possibility of a full-time job offer arises, it seems to bring the better life she's envisioning, one that involves nicer clothes, fresh produce, maybe even financial independence, within reach. But with it also comes the paralyzing realization, lurking just beneath the surface, of just how hollow that vision has become. Darkly hilarious and devastating, The New Me is a dizzying descent into the mind of a young woman trapped in the funhouse of American consumer culture."--Page 4 of cover.