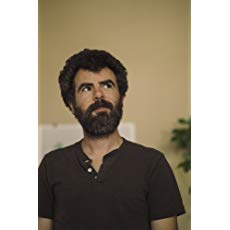 Matt Lamothe
Born:
Connection to Illinois
: Lamothe lives in the Logan Square neighborhood of Chicago.
Biography
: Matt Lamothe is an illustrator and animator. He is part of ALSO, a small design company he started with friends from the Rhode Island School of Design.
---
Awards
:
"""This is How I Do It"""
-- ILLINOIS READS Book Selection, Illinois Reading Council, 2020
Primary Literary Genre(s):
Illustrator; Non-Fiction
Primary Audience(s):
Children
E-Mail:
matt@also-online.com
Instagram:
https://www.instagram.com/thisishowwedoitbook/
Website:
https://mattlamothe.com/
WorldCat:
http://www.worldcat.org/search?q=Matt++Lamothe
---
Selected Titles
The Exquisite Book: 100 Artists Play a Collaborative Game
ISBN: 0811870901 OCLC: 645675429 Chronicle Books, San Francisco : ©2010. In The Exquisite Book, one hundred indie artists play an ingenious version of the Exquisite Corpse drawing game. Each adorns a page with artwork - having seen only the page of the artist immediately prior and using a single horizon line to connect the two.-publisher description.
The Where, the Why, and the How: 75 Artists Illustrate Wondrous Mysteries of Science
ISBN: 1452108226 OCLC: 783157707 Chronicle Books, San Francisco, CA : ©2012. A science book like no other, The Where, the Why, and the How turns loose 75 of today's hottest artists onto life's vast questions, from how we got here to where we are going.
The Who, the What, and the When: 65 Artists Illustrate the Secret Sidekicks of History
ISBN: 1452128278 OCLC: 870200138 Chronicle San Francisco : 2014 This ... illustrated history reveals 65 people you've probably never heard of, but who helped shape the word as we know it. Muses and neighbors, friends and relatives, accomplices and benefactors--such as Michael and Joy Brown, who gifted Harper Lee a year's worth of wages to help her write To Kill a Mockingbird. Or John Ordway, the colleague who walked with Lewis and Clark every step of the way--Amazon.com.
This Is How I Do It: One Day in the Life of You and 59 Real Kids from Around the World
ISBN: 1452174601 OCLC: 1085634345 CHRONICLE BOOKS, [S.l.] : 2019. Building on the success of the internationally acclaimed This Is How We Do It, this activity book invites readers to document their lives and daily rituals alongside 59 real kids. Complete with sticker sheets, punch-out postcards, and a fold-out map, this interactive activity book will get kids writing, drawing, sharing, and learning about cultures and countries other than their own. Even the die-cut cover can be personalized, creating a keepsake time capsule to treasure.
This Is How We Do It: One Day in the Lives of Seven Kids from around the World
ISBN: 1452150184 OCLC: 961213743 Chronicle 2017 Follows the daily lives of seven children from around the world, including such places as Japan, India, Uganda, and Italy, and discusses how schools, meals, and play can be different or similar in different places in the world.