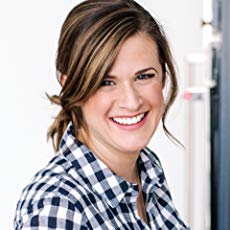 Shauna Sever
Born:
Connection to Illinois
: After more than 12 years of California living, Shauna, returned to her hometown of Chicago, where she now bakes, writes, and is always on the hunt for great old-school Midwestern bakeries.
Biography
: Shauna Sever is a cookbook author, TV and radio contributor. Her work has been featured in The Wall Street Journal, USA Today, Food52, Bon Appetit, The Kitchn, Family Circle, Real Simple, Midwest Living, Fine Cooking, Food and Wine, Bake from Scratch, O Magazine, and many more. She began developing and writing recipes when she launched her award-winning baking blog Piece of Cake in 2007.She has appeared on the TODAY Show and Food Network. She has contributed to the long-running public radio show The Splendid Table, for which she was nominated for an IACP award in 2017.
---
Awards
:
"""Midwest Made: Big, Bold Baking from the Heartland"""
-- ILLINOIS READS Book Selection, Illinois Reading Council, 2020
Primary Literary Genre(s):
Non-Fiction
Primary Audience(s):
Adult readers
E-Mail:
shauna@shaunasever.com
Facebook:
https://www.facebook.com/shaunasever
Instagram:
https://www.instagram.com/shaunasever/
Twitter:
https://twitter.com/shaunasever
Website:
https://www.shaunasever.com/
WorldCat:
http://www.worldcat.org/search?q=Shauna++Sever
---
Selected Titles
Marshmallow Madness!: Dozens of Puffalicious Recipes
ISBN: 1594745722 OCLC: 729341600 Quirk Books, Philadelphia, PA : ©2012. If you've never tasted a fresh, homemade marshmallow, are you in for a treat! Marshmallow Madness! shows how to whip up dozens of fluffy, puffy flavors - from Strawberry and Vanilla to Buttered Rum, Root Beer Float, Maple Bacon, and more. Author Shauna Sever also includes easy recipes for homemade graham crackers, drinks for mallow dunking, and a host of irresistible desserts, including Lemon Dream Whoopie Pies, Blonde Rocky Road, and S'mores Cupcakes.
Midwest Made: Big, Bold Baking from the Heartland
ISBN: 076246450X OCLC: 1085634745 RUNNING PRESS, [S.l.] : 2019. After more than a decade of living in California, author Shauna Sever rediscovered the storied, simple pleasures of home baking in her Midwestern kitchen. This unique collection of more than 125 recipes includes refreshed favorites and new treats: •Rhubarb and Raspberry Swedish Flop •Danish Kringle •Secret-Ingredient Cherry Slab Pie •German Lebkuchen •Scotch-a-Roos •Smoky Cheddar-Crusted Cornish Pasties . . . and more, which will make any kitchen feel like a Midwestern home.
Pure Vanilla: Irresistible Recipes and Essential Techniques
ISBN: 159474596X OCLC: 777659760 Quirk Books, Philadelphia, PA : ©2012. Featuring an abundance of recipes including buttery baked vanilla French toast, ultimate vanilla cupcakes, vanilla snaps, nutty vanilla spread, and vanilla mojitos, this cookbook also covers the history and origins of vanilla.
Real Sweet: More Than 80 Crave-Worthy Treats Made with Natural Sugars
ISBN: 0062346016 OCLC: 883146196 William Morrow Philadelphia, PA : 2015 Reimagines recipes that use traditional white-sugar with natural sugars, including coconut sugar, maple syrup, and turbinado sugar.