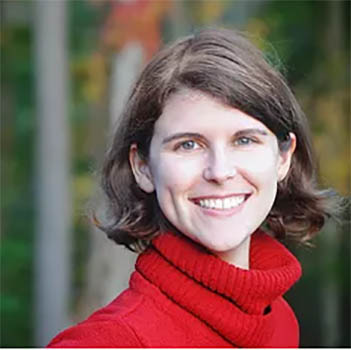 Betsy Bird
Born:
Kalamazoo, Michigan
Connection to Illinois
: Bird lives in Evanston.
Biography
: Betsy Bird is the Collection Development Manager of the Evanston Public Library, and the former Youth Materials Specialist of New York Public Library. Betsy reviews for Kirkus, served on the 2007 Newbery Award committee, and her children's literature blog, A Fuse #8 Production, is hosted by School Library Journal.
---
Awards
:
Primary Literary Genre(s):
Fiction; Non-Fiction
Primary Audience(s):
Adult readers; Children; Young adult readers
Twitter:
https://twitter.com/FuseEight?ref_src=twsrc%5Egoogle%7Ctwcamp%5Eserp%7Ctwgr%5Eauthor
Website:
https://www.betsybirdbooks.com/
WorldCat:
http://www.worldcat.org/search?q=Betsy++Bird
---
Selected Titles
Children's Literature Gems: Choosing and Using them in your Library Career
ISBN: 0838909957 OCLC: 568687193 American Library Association, Chicago : 2009. Master the huge array of quality children's books from the past and the present with this must-have resource from children's librarian Elizabeth Bird.
Funny Girl: Funniest. Stories. Ever.
ISBN: 0147517834 OCLC: 956959068 Puffin 2018 Presents a collection of humorous stories from over two dozen contemporary female writers, as well as autobiographical essays, comics, poems, and comic strips.
Giant Dance Party
ISBN: 0061960837 OCLC: 707022971 Greenwillow Books, New York : ©2013. Six-year-old Lexy Tanz loves dancing so much that she wants to share her skills with others, and when she is becoming discouraged because no one wants lessons from a girl so small, a herd of hairy giants arrives to test her teaching ability.
Long road to the circus /
ISBN: 0593303938 OCLC: 1230255512 Twelve-year-old Suzy Bowles dreams of life outside the small town of Burr Oak Michigan, but when she stumbles on the opportunity to learn ostrich-riding with the infamous Madame Marantette her obligations to her family on the farm threaten to derail her dreams of a bigger life. Includes photographs and information on Madame Marantette.
The Great Santa Stakeout
ISBN: 133816998X OCLC: 1080427745 Arthur A. Levine Books, New York : 2019 Freddy Melcher is obsessed with Santa Claus: he has posters, clothes, underwear, action figures, everything but a photograph of the real Santa--and though it will take planning, trip wires, and staying awake late, this year he is determined to get the ultimate selfie.
Wild Things: Acts of Mischief in Childrens Literature
ISBN: 0763651508 OCLC: 860395024 Candlewick New York : 2014 Did Laura Ingalls cross paths with a band of mass murderers? Why was a Garth Williams' bunny tale dubbed integrationist propaganda? For adults who are curious about children's books and their creators, here are the little-known stories behind the stories. A treasure trove of information for a student, librarian, new parent, or anyone wondering about the post-Harry Potter book biz, Wild Things! draws on the combined knowledge and research of three librarian-bloggers. Told in affectionate and lively prose, with numerous never-before-collected anecdotes, this book chronicles some of the feuds and fights, errors and secret messages found in children's books and brings contemporary illumination to the warm-and-fuzzy bunny world we think we know. Secret lives, scandalous turns, and some very funny surprises -- these essays by leading kids' lit bloggers take us behind the scenes of many much-loved children's books.