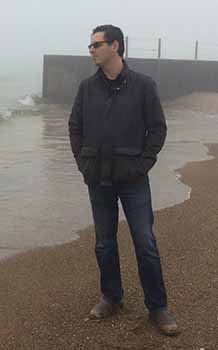 Vincent Francone
Born:
1971 in Chicago
Connection to Illinois
: Francone is a Chicago native.
Biography
: Vincent Francone is a graduate of Roosevelt University and Northwestern University. He has worked as an adjunct English Instructor for various colleges in the Chicago area and has been a full time English Instructor at Roosevelt University since 2014.
---
Awards
:
-- Illinois Emerging Writers, Gwendolyn Brooks Poetry Award, Illinois Center for the Book, 2009
Primary Literary Genre(s):
Non-Fiction; Poetry
Primary Audience(s):
Adult readers
Website:
http://www.vincentfrancone.com
WorldCat:
http://www.worldcat.org/search?q=Vincent++Francone
---
Selected Titles
Like a Dog: A Memoir
ISBN: 0692507450 OCLC: 932018374 Blue Heron 2015 A working class guy who comes up on the South Side of Chicago and moves north in a quest a better life, Francone takes us on a dazzling tour of minimum wage America over the last couple of decades. He's has done it all; I've tried telemarketing, copy writing, editing; I managed a courier center, I conducted background checks on potential healthcare employees, and worked in a stock room. . . . And that's before he goes to university and winds up, like so many other academics today, as a part-time instructor in a string of economically stressed public colleges. Francone's descriptions of boring and soul-destroying work, the places where it's done, and the people who do it are beautifully written, wildly entertaining, deeply poignant, and mysteriously inspiring. This is what it's like to be alive in these times, Like a Dog insists, this is the battlefield of everyday life.
The Soft Lunacy: Episodes of Literary Obsession
ISBN: 0999146068 OCLC: Blue Heron 2019 2016 was a bummer. Lots of famous people died, including David Bowie, my musical hero. Trump was elected president, which is baffling. The year was grim on the sociopolitical front, but also for me personally. My dog died right after Christmas 2015 and I spent most of the next year mourning him. I had to change apartments. My job started to seem unstable. The media churned out a constant supply of anger and bullshit. Facebook, where I spend far too much time, was confirmed to be the dumb echo chamber we all know it to be, though the steady dopamine drip of "likes" continued to blind us to how out of touch we are with anyone outside our cultivated spheres. Culture seemed on the skids. I read with envy and annoyance the positive reviews heaped on books by edgy poets writing poems about f*g. Scores of academics got fat grants to write studies of Star Wars. My students informed me that making them write a five-page essay was cruel, especially when I only gave them a week to write it. Few of my students bought the books I assigned. Our discussions were limited to talking about the scant info they gleaned from Amazon reviews. I can't blame them. I didn't want to read the books either. In fact, if there's one thing that 2016 seemed to represent to me it was the futility of books. So many were published and yet no one seemed to be reading them. In 2016 I read five separate think pieces on the decline of literacy. Some of these were written by academics arguing against long, deep reading in favor of "educated aliteracy." I'm still not sure what that means. Something to do with being smart enough to get the gist of a book without having to actually read it. In the golden age of television, where Netflix instantly streams first-rate content, who has the inclination to bother with books?