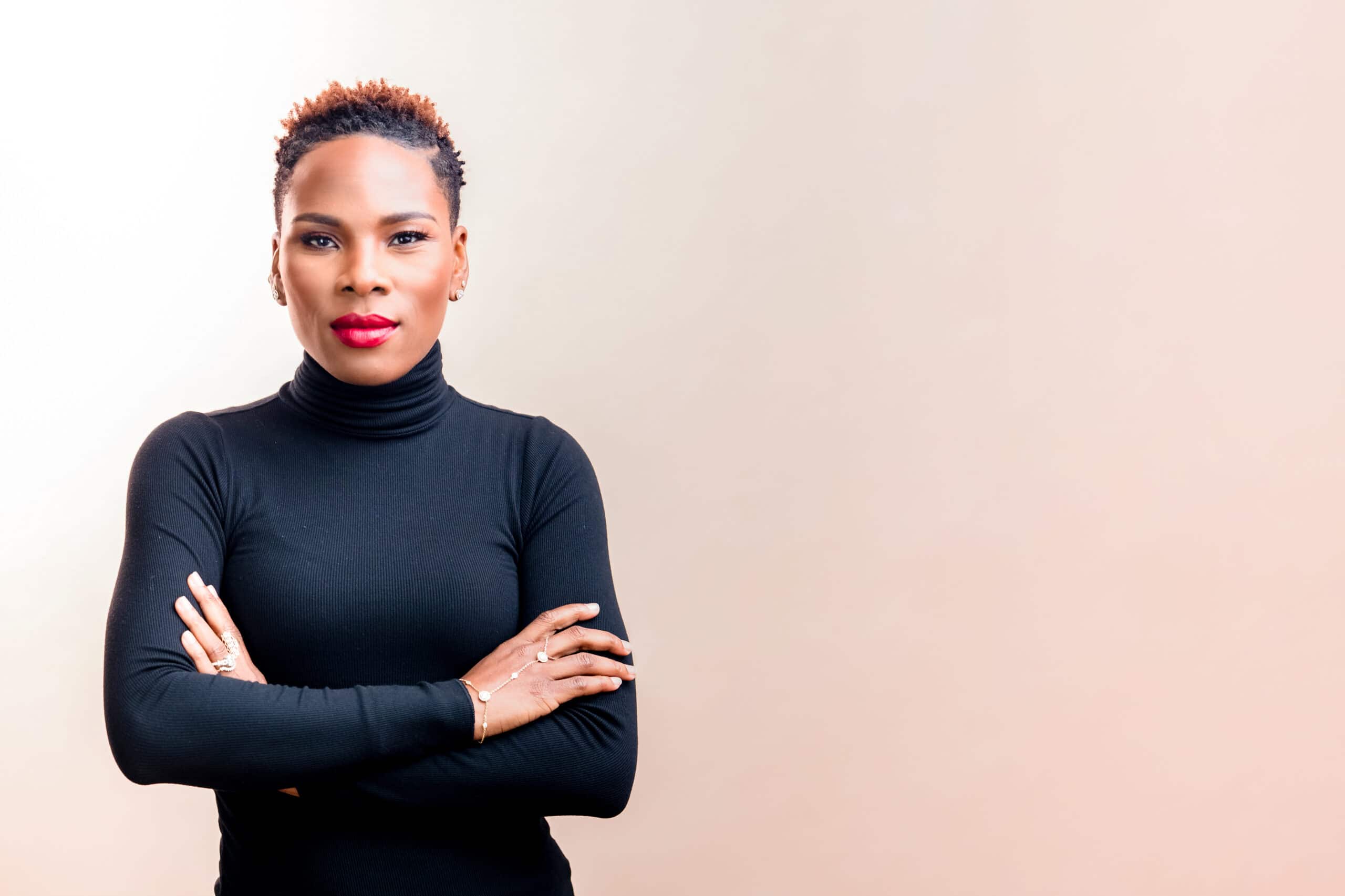 Luvvie Ajayi Jones
Born:
1985 in Nigeria
Pen Name:
Luvvie Ajayi
Connection to Illinois
: Jones lives in Chicago. She moved to Chicago with her family when she was nine. She attended Whitney M. Young Magnet High School in Chicago, then the University of Illinois at Urbana-Champaign.
Biography
: Luvvie Ajayi Jones is a New York Times bestselling author and sought after speaker who thrives at the intersection of comedy, justice and professional troublemaking. Her debut book (I'M JUDGING YOU: The Do-Better Manual) was released to critical acclaim in 2016. Her second book, PROFESSIONAL TROUBLEMAKER: The Fear-Fighter Manual, was released March 2, 2021. Her voice is singular, having been honed over 17 years on her blog AwesomelyLuvvie.com. That same razor sharp voice spurred her wildly popular TED talk 'Get Comfortable with being uncomfortable' to over 5.5 million views. She takes on dozens of stages every year around the globe and has spoken at some of the most innovative companies and conferences, including Google, Facebook, Amazon, Twitter, MAKERS, SXSW. Luvvie was selected to Oprah Winfrey's inaugural Supersoul 100 list, voted as the Influencer of the Year at the Iris Awards and was chosen as a Black Innovator by XFINITY Comcast. Her work has been featured in outlets such as The New York Times, NPR, Forbes, Inc, Fortune, Essence, Chicago Tribune and more. She hosts a podcast called Professional Troublemaker where Luvvie brings you thought-provoking conversations with amazing people who have taken action, caused good trouble, and consistently shown up with the courage and confidence they needed to become the fear-fighters they are today. Get the inspiration and action steps you need to take up space and stand in who you are so you can step out into the world and do big things. Luvvie is committed to using her voice for pop culture critique and gender and racial justice. And her love language is shoes.
---
Awards
:
I'm Judging You New York Times Bestseller, #1 Washington Post Bestseller, USA Today Bestseller, Goodreads Choice Awards Nominee, Redbook 20 Books By Women You Must Read this Fall, GoodHousekeeping.com 17 New Best New Books to Read This Fall, BookRiot 100 Must-Read Hilarious Books
Rising Troublemaker Instant New York Times Bestseller, Starred Review - Booklist
Primary Literary Genre(s):
Fiction; Non-Fiction
Primary Audience(s):
Adult readers; Children; Young adult readers
Facebook:
https://www.facebook.com/Luvvie/
Instagram:
https://www.instagram.com/luvvie/
LinkedIn:
https://www.linkedin.com/in/luvvie/?original_referer=https%3A%2F%2Fluvvie.org%2F
Twitter:
https://twitter.com/Luvvie
Web:
https://luvvie.org/
Web:
https://luvvnation.com/
Web:
https://awesomelyluvvie.com/
Wikipedia:
https://en.wikipedia.org/wiki/Luvvie_Ajayi
---
Selected Titles
Hungry Hearts: Essays on Courage, Desire, and Belonging
ISBN: 0593229622 OCLC: 1198217991 Dial Press 2021 Over the course of four years, the traveling love rally called Together Live brought together diverse storytellers for epic evenings of laughter, music, and hard-won wisdom to huge audiences across the country. Well-known womxn (and the occasional man) from all walks of life shared their most vulnerable truths in a radical act of love, paving the way for healing in the face of adversity. Now, off the stage and on the pages of Hungry Hearts, sixteen of these beloved speakers offer moving, inspiring, deeply personal essays as a reminder that we can heal from grief and that divisions can be repaired. Bozoma Saint John opens herself up to love after loss; Cameron Esposito confronts the limits of self-reliance in the wake of divorce; Ashley C. Ford learns to trust herself for the first time. A heartfelt anthology of transformation, self-discovery, and courage that also includes essays by Amena Brown, Natalie Guerrero, Connie Lim (MILCK), Nkosingiphile Mabaso, Jillian Mercado, Priya Parker, Geena Rocero, Michael Trotter and Tanya Blount-Trotter of The War And Treaty, and Maysoon Zayid, Hungry Hearts shows how reconnecting with our own burning, undeniable intuition points us toward our unique purpose and the communities where we most belong--
I'm Judging You: The Do-Better Manual
ISBN: 1250195179 OCLC: 936347641 Holt 2017 With over 500,000 readers a month at her enormously popular blog, AwesomelyLuvvie.com, Luvvie Ajayi is a go-to source for smart takes on pop culture. I'm Judging You is her debut book of humorous essays that dissects our cultural obsessions and calls out bad behavior in our increasingly digital, connected lives--from the importance of the newest Shonda Rhimes television drama to serious discussions of race and media representation to what to do about your fool cousin sharing casket pictures from Grandma's wake on Facebook. With a lighthearted, razor sharp wit and a unique perspective, I'm Judging You is the handbook the world needs, doling out the hard truths and a road map for bringing some act right into our lives, social media, and popular culture. It is the Do-Better Manual--
Little Troublemaker Makes a Mess
ISBN: 0593526090 OCLC: Philomel Books 2023 A story about a little troublemaker with a big heart from the New York Times bestselling author and noted speaker Luvvie Ajayi JonesWhoops!Little Luvvie loves her mom. She loves her sister. And she loves doing nice things for other people.But what happens when doing something nice means breaking some rules? Little Luvvie is about to find out.Written by the New York Times bestselling author Luvvie Ajayi Jones with bright, bold art by Joey Spiotto, this funny, sweet story about a bighearted girl with the best of intentions is sure to become a family favorite.
Professional Troublemaker: The Fear-Fighter Manual
ISBN: 1984881906 OCLC: 1204265097 Penguin 2021 With humor and honesty, and guided by the influence of her inspiring and professional troublemaking grandmother, Funmilayo Faloyin, Luvvie walks us through what we must get right within ourselves before we can do the things that scare us; how to use our voice for a greater good; and how to put movement to the voice we've been silencing--because truth-telling is a muscle. The point is not to be fearless. It is to know we are afraid and to charge forward regardless, to recognize the things we must do are more significant than the things we are afraid to do. This book shows you how she's done it, and how you can, too--
Rising Troublemaker: A Fear-Fighter Manual for Teens
ISBN: 0593526031 OCLC: Philomel Books 2022 *AN INSTANT NEW YORK TIMES BESTSELLER!*In this young readers edition of her New York Times bestseller Professional Troublemaker, Luvvie Ajayi Jones uses her honesty and humor to inspire teens to be their bravest, boldest, truest selves, in order to create a world they would be proud to live in.The world can feel like a dumpster fire, with endless things to be afraid of. It can make you feel powerless to ask for what you need, use your voice, and show up truly as your whole self. Add the fact that often, people might make you feel like your way of showing up is TOO MUCH.BE TOO MUCH, and use it for good. That is what it means to be a troublemaker. In this book, Luvvie Ajayi Jones - bestseller of books, sorceress of side-eyes and critic of culture - gives you the permission you might need to be the troublemaker you are, or wish to be. This is the book she needed when she was the kid who got in trouble for her mouth when she spoke up about what she felt was not fair. This is the book she needed when kids made fun of her Nigerian accent. This is the book that she needed when it was time to call herself a writer, but she was too scared.As a Rising Troublemaker, you need to know that the beautiful, audacious life you want is on the other side of doing the things that will scare you. This book will help you face and fight your fear and start living that life ASAP.