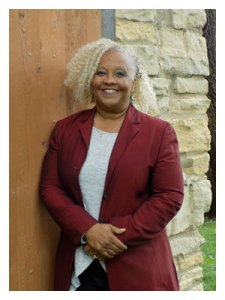 Rita Woods
Born:
Detroit, Michigan
Connection to Illinois
: Woods lives in suburban Chicago. She has served on the Homer Glen library board for ten years.
Biography
: RITA WOODS was born and raised in Detroit, Michigan. She received a BS in Microbiology from Purdue University before graduating from Howard University College of Medicine. She completed her training at Creighton University in Omaha, Nebraska and currently serves as Medical Director of a Wellness Center that provides care for members of one of the largest Trade Unions in the nation. Rita lives in suburban Chicago with her family, where she also serves as a Trustee on her local library board. She loves magic, books, history, coffee and traveling, not necessarily in that order.
---
Awards
:
Remembrance Vogue, 25 New Books by Black Authors; Elite Daily, 23 Books by Black Female Authors to Read in 2020; Historical Novel Society - New Voices for 2020; Goodreads Pick - 24 New Historical Novels to Read; Starred Review - Library Journal
The Last Dreamwalker Society of Midland Authors Adult-Fiction Award Winner, 2023
Primary Literary Genre(s):
Fiction; History
Primary Audience(s):
Adult readers
Instagram:
https://www.instagram.com/ritawoods723/
Twitter:
https://twitter.com/RitaWoodsAuthor
Web:
https://ritawoodswrites.com/
Web:
https://twitter.com/RitaWoodsAuthor
---
Selected Titles
Remembrance
ISBN: 1250298458 OCLC: 1097575937 Forge Books 2020 Remembrance...It's a rumor, a whisper passed in the fields and veiled behind sheets of laundry. A hidden stop on the underground road to freedom, a safe haven protected by more than secrecy...if you can make it there. Ohio, present day. A refugee struggling to rebuild her life in America after the devastating Haitian earthquake is suddenly inexplicably bound to a mysterious old woman who is not at all what she seems. Haiti, 1791, on the brink of revolution. When the slave Abigail is forced from her children to take her mistress to safety, she discovers New Orleans has its own powers. 1857 New Orleans-a city of unrest: Following tragedy, house girl Margot is sold just before her 18th birthday and her promised freedom. Desperate, she escapes and chases a whisper.... Remembrance--
The Last Dreamwalker
ISBN: 1250805619 OCLC: Forge Books 2022 From Hurston/Wright Legacy Award-winning author Rita Woods, The Last Dreamwalker tells the story of two women, separated by nearly two centuries yet inextricably linked by the Gullah-Geechee Islands off the coast of South Carolina―and their connection to a mysterious and extraordinary gift passed from generation to generation.In the wake of her mother's passing, Layla Hurley unexpectedly reconnects with her mother's sisters, women she hasn't been allowed to speak to, or of, in years.Her aunts reveal to Layla that a Gullah-Geechee island off the shore of South Carolina now belongs to her. As Layla digs deeper into her mother's past and the mysterious island's history, she discovers that the terrifying nightmares that have plagued her throughout her life and tainted her relationship with her mother and all of her family, is actually a power passed down through generations of her Gullah ancestors. She is a Dreamwalker, able to inhabit the dreams of others―and to manipulate them.As Layla uncovers increasingly dark secrets about her family's past, she finds herself thrust into the center of a potentially deadly, decades-old feud fought in the dark corridor of dreams.The Last Dreamwalker is a gripping, contemporary read about power and agency; family and legacy; and the ways trauma, secrets, and magic take shape across generations.