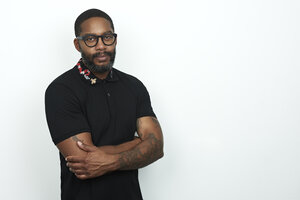 Mitchell S. Jackson
Born:
Portland, Oregan
Pen Name:
Connection to Illinois
: Jackson teaches at the University of Chicago.
Biography
: Mitchell Jackson is a columnist for Esquire Magazine and teaches creative writing at the University of Chicago.
---
Awards
:
''The Residue Years '',
-- Winner Whiting Writers' Award Winner Ernest J. Gaines Award for Literary Excellence Finalist for the PEN/Hemingway Award for Debut Fiction Finalist for the Flaherty-Dunnan First Novel Prize Finalist for the Hurston/Wright Legacy A
''Survival Math: Notes on an All-American Family'',
-- named a best book of the year by fifteen publications, including NPR, Time, The Paris Review, The Root, Kirkus Reviews, and Buzzfeed. Starred Reviews - Library Journal, Kirkus, Publishers Weekly.
''Runner's World'',
-- 2021 Pulitzer Prize in Feature Writing
Primary Literary Genre(s):
Fiction; Non-Fiction
Primary Audience(s):
Adult readers
Web:
https://www.mitchellsjackson.com
Facebook:
https://www.facebook.com/mitchellsjacksonauthor/
Twitter:
https://twitter.com/MitchSJackson
Wikipedia:
https://en.wikipedia.org/wiki/Mitchell_S._Jackson
E-Mail:
mitchell@mitchellsjackson.com
WorldCat:
http://www.worldcat.org/search?q=Mitchell++S.++Jackson
---
Selected Titles
Survival Math: Notes on an All-American Family
ISBN: 1501131702 OCLC: 1084367110 Scribner 2019 With a poet's gifted ear, a novelist's sense of narrative, and a journalist's unsentimental eye, Mitchell S. Jackson candidly explores his tumultuous youth in the other America. Survival Math takes its name from the calculations Mitchell and his family made to keep safe--to stay alive--in their community, a small black neighborhood in Portland, Oregon blighted by drugs, violence, poverty, and governmental neglect. Survival Math is both a personal reckoning and a vital addition to the national conversation about race. Mitchell explores the Portland of his childhood, tracing the ways in which his family managed their lives in and around drugs, prostitution, gangs, and imprisonment as members of a tiny black population in one of the country's whitest cities. He discusses sex work and serial killers, gangs and guns, near-death experiences, composite fathers, the concept of hustle, and the destructive power of drugs and addiction on family. In examining the conflicts within his family and community, Jackson presents a microcosm of struggle and survival in contemporary urban America--an exploration of the forces that shaped his life, his city, and the lives of so many black men like him. As Jackson charts his own path from drug dealer to published novelist, he gives us a heartbreaking, fascinating, lovingly rendered view of the injustices and victories, large and small, that defined his youth. --
The Residue Years
ISBN: 1620400294 OCLC: 844372898 Bloomsbury 2014 Mitchell S. Jackson grew up black in a neglected neighborhood in America's whitest city, Portland, Oregon. In the '90s, those streets and beyond had fallen under the shadow of crack cocaine and its familiar mayhem. In his commanding autobiographical novel, Mitchell writes what it was to come of age in that time and place, with a break-out voice that's nothing less than extraordinary.The Residue Years switches between the perspectives of a young man, Champ, and his mother, Grace. Grace is just out of a drug treatment program, trying to stay clean and get her kids back. Champ is trying to do right by his mom and younger brothers, and dreams of reclaiming the only home he and his family have ever shared. But selling crack is the only sure way he knows to achieve his dream. In this world of few options and little opportunity, where love is your strength and your weakness, this family fights for family and against what tears one apart.