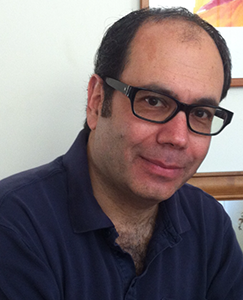 Ken Krimstein
Born:
Pen Name:
Connection to Illinois
: Krimstein lives in Evanston.
Biography
: Ken Krimstein has published cartoons in the New Yorker, Punch, the Wall Street Journal, and more. He teaches at De Paul University and the School of the Art Institute of Chicago.
---
Awards
:
''When I Grow Up: The Lost Autobiographies of Six Yiddish Teenagers'',
-- Washington Post - Top 10 Graphic Novels of 2021
-- Chicago Tribune - Best Fall Reads for 2021
-- Publishers Weekly - Starred Review
-- Kirkus Reviews - Starred Review
''The Three Escapes of Hannah Arendt - A Tyranny of Truth'',
-- Winner of the Bernard J. Brommel Award for Biography & Memoir Best Graphic Novels of the Year--Forbes Jewish Book Award Finalist Finalist for the Chautauqua Prize
Primary Literary Genre(s):
C:YOUNG ADULT; Fiction; Illustrator; Non-Fiction
Primary Audience(s):
Adult readers
Web:
http://www.kenkrimstein.com/
Facebook:
https://www.facebook.com/gagcartoons/?notif_t=page_invite_accepted&notif_id=1472524198818764&pnref=story
Twitter:
https://twitter.com/kenkrim
Pinterest:
https://www.pinterest.com/kenkrim/secret-museum-of-mankind/
Instagram:
https://www.instagram.com/krimsteincartoons/
Wikipedia:
https://en.wikipedia.org/wiki/Ken_Krimstein
LinkedIn:
https://www.linkedin.com/in/kenkrimstein
E-Mail:
kenkrimstein@gmail.com
WorldCat:
http://www.worldcat.org/search?q=Ken++Krimstein
---
Selected Titles
Kvetch As Kvetch Can: Jewish Cartoons
ISBN: 0307588882 OCLC: 489257785 Clarkson Potter/Publishers, New York : ©2010.
The Three Escapes of Hannah Arendt - A Tyranny of Truth
ISBN: 163557188X OCLC: 1019963553 Bloomsbury Publishing 2018 Provides an illustrated biography of Hannah Arendt, one of the most prominent philosophers of the twentieth century, a hero of political thought, and a complex, controversial, deeply flawed, and courageous woman. Her intelligence and virulent truth telling led her to insights into the human condition, and her experience continues to shine a light on how to live as an individual and a public citizen in troubled times. --Adapted from publisher description.
When I Grow Up: The Lost Autobiographies of Six Yiddish Teenagers
ISBN: 163557370X OCLC: 1227086537 Bloomsbury Publishing 2021 When I Grow Up is New Yorker cartoonist Ken Krimstein's new graphic nonfiction book, based on six of hundreds of newly discovered, never-before-published autobiographies of Eastern European Jewish teens on the brink of WWII-found in 2017 hidden in a Lithuanian church cellar. These autobiographies, long thought destroyed by the Nazis, were written as entries for three competitions held in Eastern Europe in the 1930s, just before the horror of the Holocaust forever altered the lives of the young people who wrote them. In When I Grow Up, Krimstein shows us the stories of these six young men and women in riveting, almost cinematic narratives, full of humor, yearning, ambition, and all the angst of the teenage years. It's as if half a dozen new Anne Frank stories have suddenly come to light, framed by the dramatic story of the documents' rediscovery. Beautifully illustrated, heart-wrenching, and bursting with life, When I Grow Up reveals how the tragedy that is about to befall these young people could easily happen again, to any of us, if we don't learn to listen to the voices from the past.