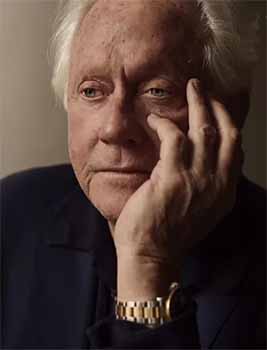 Theodore A. Bell
Born:
Pen Name:
Ted Bell
Connection to Illinois
: When he was a young man, Bell joined Leo Burnett Co., Chicago, as a creative director and four years later, he was named President, Chief Creative Officer where he was credited with developing numerous innovative and award-winning advertising campaigns.
Biography
: Ted Bell is the former chairman of the board and creative director of Young & Rubicam, one of the world's largest advertising agencies. He is the New York Times bestselling author of the Alex Hawke series as well as the YA adventure novels Nick of Time and The Time Pirate. He has recently been writer-in-residence at Cambridge University (UK) and visiting scholar at the Department of Politics and International Relations. Bell has traveled the world and has lived in Italy, London, France, Palm Beach, New York, Chicago, San Francisco and Maine. Today, a 19th century farmhouse in Connecticut is where he calls home.
---
Awards
:
Primary Literary Genre(s):
C:YOUNG ADULT; Fiction; Mystery
Primary Audience(s):
Adult readers
Web:
https://www.tedbell.com/
Facebook:
https://www.facebook.com/TedBellNovels/
LinkedIn:
https://www.linkedin.com/in/ted-bell-7233b521
WorldCat:
http://www.worldcat.org/search?q=Theodore++A.++Bell
---
Selected Titles
Assassin: A Novel (Hawke)
ISBN: 0743466713 OCLC: 54685377 Atria Books, New York : 2004. Learning that a murderer is targeting American diplomats and their families throughout the world, secret agent Alexander Hawke follows decade-old leads to London and Florida, wondering if more than one killer is responsible.
Dragonfire (An Alex Hawke Novel)
ISBN: 0593101200 OCLC: 1125355504 Berkley 2020 The dashing playboy heir to the British throne has gone missing in the Bahamas. The young prince's devoted grandmother, the Queen, knows only one man who can be trusted to find him before his kidnappers make good on their deadly threats. Lord Alexander Hawke, dashing British gentleman spy and MI6 legend, will risk all to save the young royal in this breathtaking new adventure from New York Times bestselling novelist Ted Bell. December 8, 1941, Washington, D.C. The new Chinese ambassador to the United States, Tiger Tang, meets with beleaguered President Roosevelt one day after the Japanese attack Pearl Harbor. China and the U.S. are wartime allies-but the charming, sophisticated Chinese ambassador may be playing his own treacherous game, including a wicked assassination plot that could well change the course of history. Present Day, the Bahamas Alex Hawke is recovering from horrific injuries suffered after a battle royale with a malevolent enemy. Suddenly, Hawke's recuperation is interrupted by a desperate call from the Queen. Her favorite grandson has disappeared in the Bahamas and Lord Hawke is the only man she trusts with a mission this time-sensitive. All she knows is that the young prince was last seen at the ultra-exclusive Dragonfire Resort, owned by Tiger's twin grandsons, the nefarious Tang brothers, evil heads of the Tang Dynasty's worldwide criminal enterprise. Time inexorably ticks down as Hawke, in the epic fight of his life, battles to unravel a shadowy conspiracy that may be centuries old--
Hawke: A Novel
ISBN: 0743466691 OCLC: 52297089 Atria Books, New York : 2003. Alexander Hawke heads for the Caribbean on a secret mission for the U.S. government to locate an experimental stealth submarine which has fallen into the hands of an unstable government planning a preemptive strike against the United States.
Nick of Time: A Nick McIver Time Adventure (Nick McIver Adventures Through Time, 1)
ISBN: 0312581432 OCLC: 180753845 Square Fish 2009 Nick McIver is no ordinary boy, fighting pirates, beating Nazis at their own game, and traveling through time.
Overkill: An Alex Hawke Novel (Alex Hawke Novels, 10)
ISBN: 0062684515 OCLC: 1012686707 Atria New York : 2018 On a ski vacation in the Swiss Alps high above St. Moritz, Alex Hawke and his young son, Alexei, are thrust into danger when the tram carrying them to the top of the mountain bursts into flame, separating the two. Before he can reach Alexei, the boy is snatched from the burning cable car by unknown assailants in a helicopter. Meanwhile, high above the skies of France, Vladimir Putin is aboard his presidential jet after escaping a bloodless coup in the Kremlin. When two flight attendants collapse and slip into unconsciousness, the Russian leader realizes the danger isn't over. Killing the pilots, he grabs a parachute, steps out of the plane. and disappears. Hawke has led his share of dangerous assignments, but none with stakes this high. To save his son, he summons his trusted colleagues, Chief Inspector of Scotland Yard Ambrose Congreve, former U.S. Navy SEAL Stokley Jones, Jr., and recruits a crack Hostage Rescue Team--a group of elite soldiers of fortune known as Thunder & Lighting. Before they can devise a rescue plan, Hawke must figure out who took his boy--and why.--
Patriot: An Alex Hawke Novel (Alex Hawke Novels, 9)
ISBN: 0062279416 OCLC: 905089164 Morrow New York : 2015 In corrupt Russia, an erratic Vladimir Putin is determined to forge his country into a formidable superpower once again. He intends to redraw the map of Europe, and will go to impossible extremes to realize his fantasies -- including shooting down a civilian airliner packed with tourists bound for China. Kremlin scientists have developed a radical new weapon that could forever alter modern warfare. NATO, locked in a tense standoff over Ukraine, Poland, and Estonia, knows Putin will not hesitate to use it. But there is one man who can bring the world back from the brink: Britain's foremost intelligence asset, Lord Alexander Hawke.
Phantom (Alexander Hawke, Book 7) (Alex Hawke Novels, 7)
ISBN: 0061859303 OCLC: 733224068 William Morrow, New York : ©2012. Counterspy Alex Hawke hunts a madman about to unleash a new super weapon--one powered by artificial intelligence.
Pirate (Alexander Hawke, Book 3)
ISBN: 0743275071 OCLC: 60336938 Atria Books, New York : 2005. Aboard the Star of Shanghai in the south of France, an American spy is held captive. He possesses vital, explosive intelligence linking two nations and one horrifying plot. If he is not rescued, he faces certain torture and inevitable death. Nearby, in a seaside hotel, a man still haunted by the loss of his wife two years earlier finds comfort in the arms of a beautiful Chinese actress--but is she to be trusted? So begins Pirate, an electrifying thriller marking the return of international counterterrorist Alex Hawke. In Paris, a ruthless descendant of Napoleon has risen to power, hell-bent on restoring France's former glory. His fiery ambitions are cynically stoked by a coterie of cold-blooded Mandarins, plotting behind the gates of Beijing's Forbidden City. Cloaked in secrecy, this unholy alliance devises a twisted global plan, backed by China's growing nuclear arsenal, that will send America and the world to the brink of a gutwrenching showdown.
Sea Hawke (An Alex Hawke Novel)
ISBN: 0593101235 OCLC: 1225190466 Berkley 2021 Alex Hawke is sailing into trouble when an around-the-world journey becomes a fight against terror in the latest exciting adventure from New York Times bestselling novelist Ted Bell. After saving the kidnapped heir to the British throne, gentleman spy and MI6 legend Alex Hawke is due for some downtime. He's got a new custom built sailing yacht and a goal: to get closer to his son Alexi during an epic cruise across the seven seas. But fate and the chief of MI6, Lord David Trulove, have other plans. There's an unholy alliance of nations who are plotting to attack Western democracies. The wily intelligence leader plans to use Hawke to drive a knife into the heart of this conspiracy. From an island base off Cuba to a secret jungle lair deep in the Amazon, on the land and the seas, the master spy and his crew of incorrigibles are in for the fight of their lives--the fight for freedom--
Spy (Alexander Hawke, Book 4)
ISBN: 0743277236 OCLC: 70630556 Atria Books, New York : 2006. Things along America's southern border are rapidly reaching the boiling point. American girls are being snatched from their homes, ranches are burning, and armed Mexican troops cross the border at will in support of narcotics smugglers and illegal immigrants. By day, Americans take up arms and plan reprisals. An all-out border war is no longer inconceivable--it's happening! On assignment for the British Secret Service, a man leads a mysterious expedition into the furthest reaches of the Amazon River, where he is captured by indigenous cannibals. Forced into slave labor, he witnesses the unimaginable: golden domes and minarets rise beneath the rainforest canopy. Vast terror armies are being recruited and trained in the jungle. Their goal: a vicious jihad that will unite one continent--and destroy another. They possess weapons only dreamed of by the Western allies. Somehow he must escape his captors and live to tell the tale.--From publisher description.
The Time Pirate: A Nick McIver Time Adventure (Nick McIver Adventures Through Time)
ISBN: 0312578105 OCLC: 430839733 St. Martin's Griffin New York : 2010 It's 1940 and the Nazis are invading Nick's beloved home, the British Channel Islands. So Nick takes to the skies: He has discovered an old World War One fighter plane in an abandoned barn. Determined to learn to fly, he is soon risking life and limb to photography armed German minelayers and patrol boats, and executing incredibly perilous bombing raids over Nazi airfields at night. Meanwhile, the evil pirate Captain Billy Blood, still desperate to acquire Nick's time machine, returns to Greybeard Islands, kidnaps Nick's sister, Kate, and transports her back to Port Royal, Jamaica, in the year 1781.--From publisher's description.
Tsar: A Thriller (Alex Hawke)
ISBN: 1416550402 OCLC: 192079429 Atria New York : 2008 Swashbuckling counter spy Alex Hawke is the only man, both Americans and the Brits agree, who can stop the madness created by the new Russia and its new Tsar, who is pulling strings and pulling them hard.
Warlord: An Alex Hawke Novel (Alex Hawke Novels)
ISBN: 006185929X OCLC: 526084272 Morrow New York : 2010 Someone from the past has the British crown in his sights again, and has proven once before that these threats are not to be taken lightly. This is just the call to duty British-American M16 counterterrorism operative Alex Hawke needs to get back in action -- if the madman doesn't wreak total havoc first.
Warriors: An Alex Hawke Novel (Alex Hawke Novels, 8)
ISBN: 0062279386 OCLC: 862222196 Morrow New York : 2014 Counterspy Alex Hawke is out to find and rescue a kidnapped American scientist as the United States and China get closer and closer to all-out nuclear war in the latest adrenaline-fueled thriller in the New York Times bestselling series--