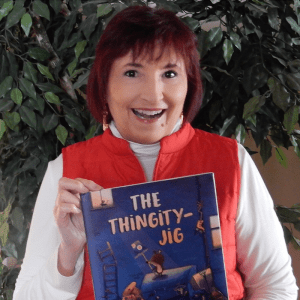 Kathleen Doherty
Born:
Pen Name:
Connection to Illinois
: Doherty was born in Chicago and raised on the southeast side.
Biography
: Kathleen enjoys bringing kids and quality literature together. She's a Reading Specialist and an Educational Specialist in Curriculum and Instruction. Her love of learning has led her to graduate from four different universities.Nothing scares her. Kathleen has taught elementary school for over 30 years. A student once told her she'd make a great vampire because she's tall and her teeth are sharp!Her work has appeared in TIME Magazine, The Mailbox, Spider Magazine, Highlights Hello, Highlights High Five, and Highlights for Children. She's won the Highlights Pewter Plate Award, the Highlights Celebrate National Poetry Contest, and a letter of merit from SCBWI's Magazine Merit Competition.Kathleen donates 100% of her author earnings to St. Jude Children's Research Hospital.She lives in Indiana.
---
Awards
:
''The Thingity-Jig'',
-- Kirkus and Foreward Reviews, STARRED REVIEW
''Don't Feed the Bear'',
-- Kirkus Recommended List.
Primary Literary Genre(s):
C:CHILDREN; Fiction
Web:
https://kathleendohertyauthor.com
Facebook:
https://www.facebook.com/kathy.doherty.79
Twitter:
https://twitter.com/Doherty60
E-Mail:
dohertybooks@att.net
WorldCat:
http://www.worldcat.org/search?q=Kathleen++Doherty
---
Selected Titles
Don't Feed the Bear
ISBN: 1454919795 OCLC: 989726128 Sterling Children's Books 2018 A park ranger and a bear face off in a battle of signs as they each try to get treats from visiting campers.
The Thingity-Jig
ISBN: 1561459593 OCLC: 1183423678 Peachtree Publishing Company 2021 Under the light of a silvery moon, Bear wanders into people town and discovers a springy thing, a bouncy thing--a sit-on-it, jump-on-it thing! This Thingity-Jig is too heavy to carry home by himself, so Bear runs back to the woods and asks for help. Too bad for Bear, his friends are sleepy and shoo him away. So Bear invents a Rolly-Rumpity to wheel the Thingity-Jig home, but then it all gets stuck in the mud! How will Bear tackle this bump in the road? With a Lifty-Uppity, of course!--Amazon.com.